Shipyard Brewing blog:
Thursday November 2, 2023 – 2100 – Approaching the Canary Islands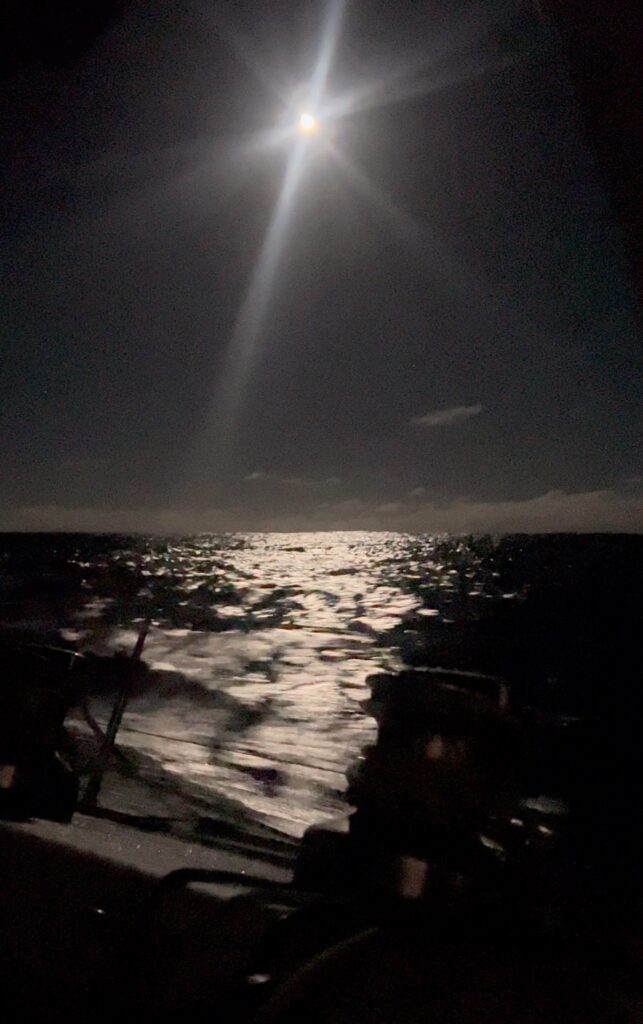 This has to be one of the nicest parts of a round the world sailing race. Read any Vendée Globe book or other solo sailing story about a race like this, and the tales all ring true like they do right now. Winter storms of Europe are becoming a memory, the foul weather gear has come off, the boat is flat and dry, and we are making relatively easy and efficient miles to the mark. As we have passed the Strait of Gibraltar and continued on south, the breeze has gone from westerly to northerly, and will eventually go northeasterly. After a challenging and ultimately costly upwind departure from Spain, Shipyard Brewing and her fellow Global Solo Challenge skippers who started on 29/10 (do we call it Super Sunday?) now reaching the nicest part of a race like this; downwind across the Atlantic towards Brazil.
Shipyard Brewing and I are continuing to mesh as a duo, and i've been gradually adding sail, making course changes and trimming sails around the clock, beginning to instinctively feel when the boat needs adjustment. In the reaching sections, I am gradually learning to sail her a bit more powered-up and heeled over than I had in the past. My competitors are pushing me to reach higher speeds, and so pushing the boat a bit harder has thus far rewarded in more speed, yet no loss of control or perceived undue strain on the boat. Power-reaching, the twin rudder boats (like Class 40s) are more powerful hull shapes and can sail very fast and just lean on that leeward rudder. My relatively skinny, single-rudder Open 50 is a very different animal and must be met with a lot of attention and care to keep moving fast, and throttle back at just the right times.
Thus far our boat speed has been good compared to our competitors. I'm not surprised as I always expected the longer 50-footer to perform well in waterline conditions like going up and down the Atlantic. Putting up spinnakers and surfing down the Atlantic in the upcoming days and then surfing downwind in the following swells of the Southern Ocean, I expect the more modern, much more lightweight Class 40s to have an advantage. So while I have a small lead over my rivals now, it is mostly superficial and I need to be ready to try to hang on to the Class 40s when they get into their conditions where they have the advantage. Sailing very very different boats with the same IRC rating is interesting, at the very least. 
Right now I have a full main and jib up, and am going about as far downwind as I can with this sail plan, efficiently. Any lower downwind and we would just be slow. This is a good mode and I will attempt to hold onto this for the night, and then potentially put up a flying sail at some point tomorrow. Really depends how windy it gets, as right now we have 15-16 knots and it could go further aft and continue building. At any rate, i'll likely opt for something a bit more cautious like a fractional furling Code Zero to ease us into the flying sail game for this race.
Thanks to everyone for following along and for all of the supportive messages, 
And great job to Riccardo and Cole, who are sailing a great race and pushing us hard while descending the Atlantic. I've been dreaming about this moment for a long time, so to approach the Canaries three-wide at 10 knots is a dream realized. Thank you all. 
Good night from Open 50 Shipyard Brewing, 
Ronnie