Wednesday November 1, 2023 update from Shipyard Brewing – 1400 – Shipyard Brewing and I have now been at sea for just over three days and are beginning to settle into this long and challenging adventure after a difficult start. Today is the first day of very nice sailing of the race. On Sunday October 29, I met my team at the boat at about 6:30 am and completed some final preparations before shoving off some time around 8:30 am, though the exact time escapes me. It was an emotional good bye to my friends and supporters, and to a couple of the other skippers, and I both thank and love them all for their help and support. But it was time to go. 
Leaving the pontoon at Marina Coruña for the final time, I motored out into the harbor and hoisted a triple-reefed mainsail. I had planned to do a double, but there was a solid puff in the harbor that made me be extra cautious. I just didn't want to beat myself and the boat up any more than is absolutely necessary. Cole left a few hours earlier and I started right behind Riccardo Tossetto and Jaun Merediz. With my conservative sail plan, both boats began pulling away a bit, but also sagging off to leeward a bit. I shook to the double reef, and began working past them on the inside. My older 50' footer will undoubtedly be slower in many conditions than the lighter, newer, more advanced Class 40s, but I did benefit from a waterline advantage on that first day of beating.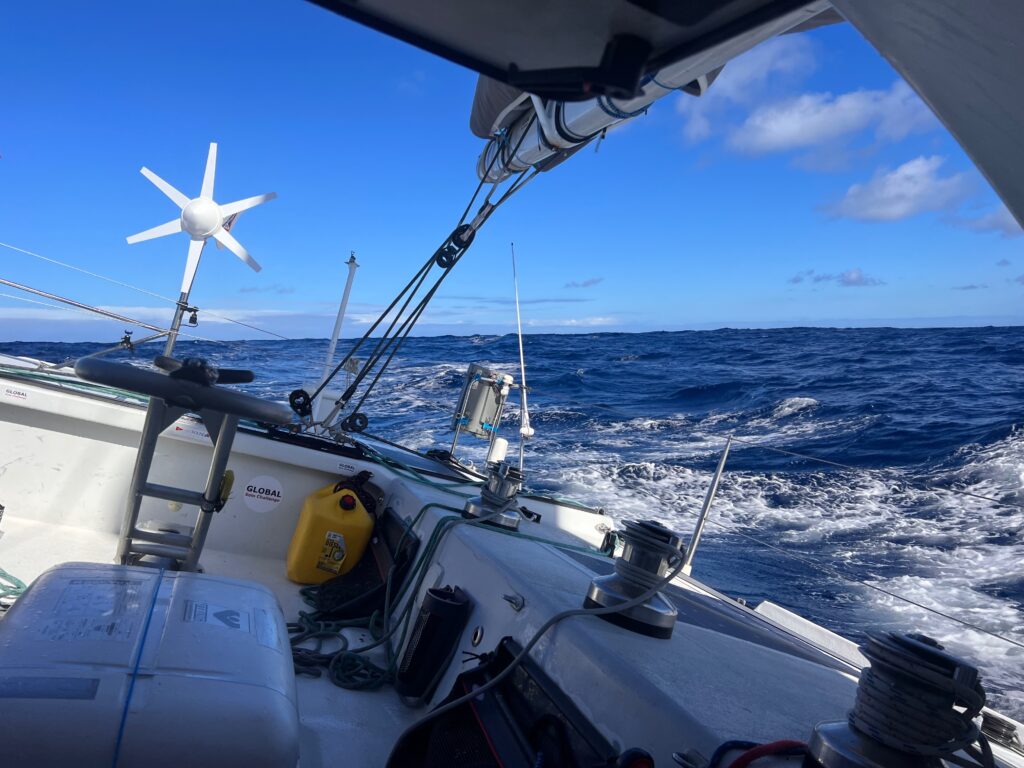 After tacking off the NW corner of Spain and beating southwards, I was closely monitoring shipping traffic when my primary NKE autopilot failed. The boat suddenly crash tacked, and no matter what I did, the primary autopilot computer showed no signs of life. Major bummer. I switched to my emergency Pelagic tiller pilot to handle helming duties for a while. Cracked way off with just a stay sail up, I limped along at a few knots of boat speed for a few hours while swapping out to the #2 NKE autopilot. Once that was back online, I got the boat steering itself again properly and then stowed the Pelagic autopilot away again. Shipyard Brewing is again back up to full speed more or less, but I will be searching for a solution to my primary autopilot woes when things get a bit lighter, flatter and more calm onboard; that transition is already beginning. If I can not sort out the primary NKE pilot woes or come up with another solution, I may go ahead and make a pit stop. Perhaps Brazil, perhaps elsewhere, but somewhere that won't involve sailing a lot of miles would be preferable.
On Day 2, I had a bilge pump exit hose in the transom come loose and begin flooding the aft compartment of the boat with water. What ensued was a very un-fun situation where I had to bucket the water out of the back, which was not the easiest situation given the sea state and our point of sail. I also have some other issues resulting from that, including some boat repair supplies being sloshed about and a can of West System epoxy coming open and mixing about with the sea water. Much of the back section of the boat and my buckets, and many of the ropes in the cockpit are now covered in an epoxy sheen. It's not a lovely situation onboard. I also had a piece of dyneema in my lazy jacks chafe through and snap, which is bizarre as these all looked fine in Spain and have many miles of use with no issues. Regardless, the starboard/ windward lazy jack was disconnected and I had to get it back through the block that is hanging at about 1st spreader level. In a relatively calm spot at night, I got out the ATN Top Climber and I climbed to the 1st spreader and re-reaved the lazy jack line. I wasn't hoping to be swapping to backup autopilots, dealing with water ingress and a terrible mess and partially climbing the rig at night, all within the first 48 hours, but such is the Global Solo Challenge onboard Shipyard Brewing.
Despite all of the challenges onboard – honestly more difficult and humbling than I would have anticipated – I am still sailing near the front of the fleet. Cole has worked out to a bit of a lead and definitely seems to have a boat speed advantage in many conditions thus far, which i'm not entirely surprised about. She has a very fast and well prepared boat, and is sailing a great race, despite feeling ill one day. Riccardo Tossetto is right off my port hip, more or less, and we are having a nice drag race down the coast of Portugal, now crossing the latitude of the Strait of Gibraltar. Today is the first really nice day of sailing of the journey, and Shipyard Brewing is now reaching along at 9 knots more or less, with peaks well above 10, though breeze is still well forward of the beam. Cole got a nice windward advantage and can now sag down to course at a faster wind angle, while I will stick closer to rhumb line and try to come up into her as the breeze goes aft. Juan Merediz was lined up with Riccardo and I down the coast of Portugal but is now sailing slowly to the coast to seek shelter to deal with a mainsail halyard issue. Plenty of early issues to deal with onboard Shipyard Brewing, but i'm looking for solutions to all of them and planning my future moves. Hats off to all of the other skippers thus far, this is a beautiful adventure, but honestly it has been quite difficult. We now cross the literal and figurative border of getting out of Europe in the winter and are now sailing towards warmer and more benign latitudes where some of the nicest sailing of the trip should take place. I am looking forward to the wind going aft and spinnakers coming out, and hopefully some solutions to a few early issues onboard. 
Cheers from Shipyard Brewing, somewhere west of Gibraltar,
Happy belated Halloween, 
Ronnie Simpson
Open 50 Shipyard Brewing