Ronnie Simpson is a Hawaii based sailor that will be sailing the Open 50 Sparrow in the inaugural edition of the Global Solo Challenge race in 2023-4. At 37 years of age, Ronnie has sailed more than 130,000 miles at sea and has worked professionally as a racing sailor, delivery captain, charter captain, sailboat rigger and racing yacht preparateur. He also has an extensive career and experience as an award-winning sailing journalist, writer and media professional who has covered yacht races around the world. In his 20s, he mounted two sponsored campaigns for the Singlehanded Transpac race and won his division in one of those. With a long held aspiration to compete in the legendary Vendée Globe race, competing in the Global Solo Challenge race on an Open 50 represents an incredible opportunity and stepping stone for Ronnie to achieve his dream.
Career Sailing Achievements
Years sailing: 15
Offshore Miles Sailed: 130,000+
19 crossings between Hawaii and US Mainland
6 races to Hawaii; 2 solo and 4 crewed
1 division win in Singlehanded Transpac and 1 division win in Transpac
1 participation in the Rolex Sydney-Hobart
Significant other offshore, inshore and coastal races.
Sailed a 34' monohull about 14,000 miles solo around the Pacific.
Sailed a 27' engineless monohull about 10,000 miles solo from Washington State to New Zealand.
Offshore crossings on racing monohulls up to canting-keel 100' supermaxis.
Experience on bigger racing and cruising monohulls with a variety of systems
Experience as a delivery and charter captain
Experience on racing and cruising multihulls up to 72' ORMA racing trimaran.
USCG Captain's License – 50 ton master
Professional experience as a racing sailor, delivery captain, charter captain, yacht rigger and racing yacht preparateur.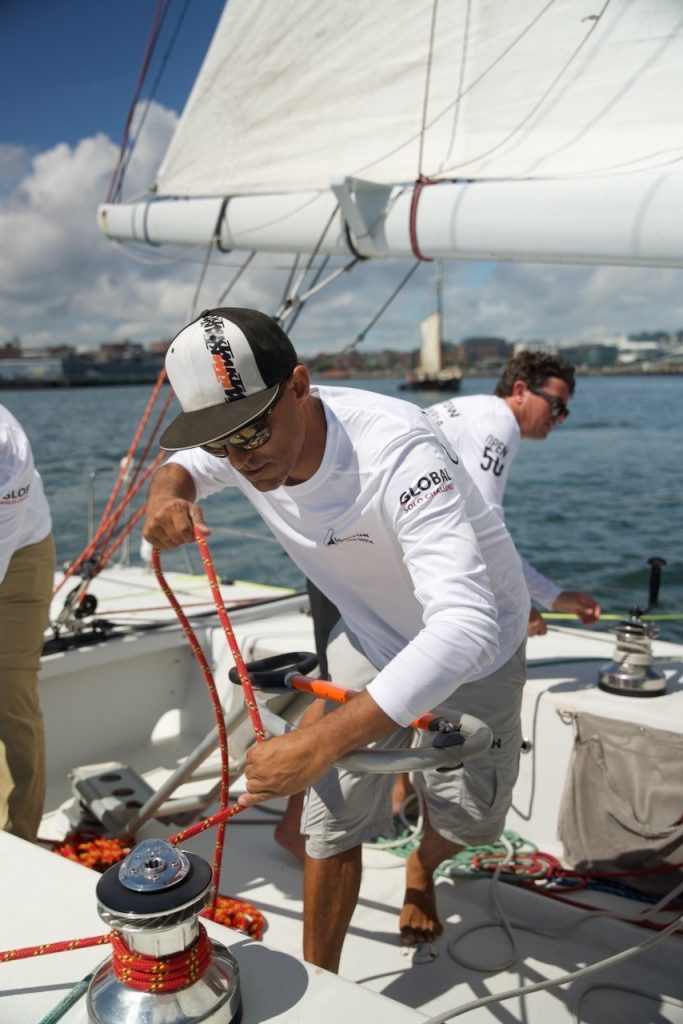 Inspirational and Compelling Life Story
As well as having a unique set of skills that will allow him to run a successful campaign and complete the race, Ronnie also has an inspirational and compelling life story that can connect with the American public and make his campaign one worthy of corporate sponsorship and public support. A combat-wounded Iraq war veteran and medically retired US Marine, Ronnie effectively had his life saved by his personal discovery of sailing and pursuit of ambitious sailing endeavors. As such, he is passionate about sharing those gifts with other veterans. Over the years, he has volunteered with veteran sailing non-profits and even started an all-volunteer veteran sailing non-profit of his own. For this Global Solo Challenge campaign, Ronnie has teamed up with US Patriot Sailing, a 501c3 charitable non-profit that will allow him to raise necessary campaign funds while also raising awareness for US Patriot Sailing, and working towards their mission of helping veterans heal through sailing.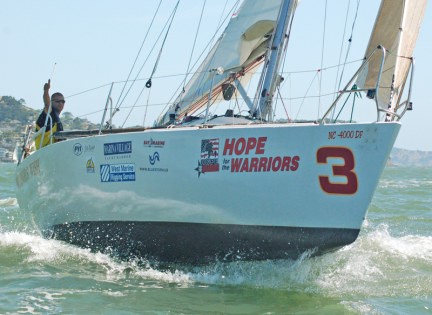 Working to Raise the Profile of Sailing in America
As well as racing to benefit veterans, Ronnie hopes to raise the profile of sailing in America, continue to be a steward for the environment and also aim to promote diversity in sailing. Through this campaign, Ronnie hopes to connect with the American public as much as possible including speaking engagements, boat tours, boat rides, media engagements and also bringing guests and donors onboard for offshore delivery legs and even some Caribbean racing. With the formation of Ronnie Simpson Racing LLC, Ronnie also aims to create a sustainable and viable business entity that can successfully run a Vendée Globe campaign and create offshore sailing opportunities for individuals that would not otherwise be exposed to sailing.