After a long upwind beat, Sparrow is now in Jersey City, New Jersey; just across the Hudson River from Manhattan and about 1.25 miles from the Statue of Liberty. Being here is a huge highlight for me, I haven't been here since I was a child and the energy of this place is infectious. Over here at Liberty Landing Marina in Jersey, however, it's nice and calm and relaxing, and gives me a good opportunity to play catch up on some stuff after a busy time in Newport.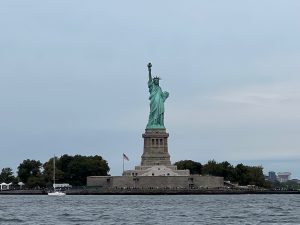 In about 8 more days, i'll put together another crew and take off from New York and head to Annapolis, Maryland where Sparrow will be featured in the Annapolis Boat Show, the largest sailboat show in the US. This is a huge opportunity for the campaign, and in many ways could prove to be our launching point. Less than two months after meeting Sparrow for the first time, i'll have the boat on the docks in front of thousands of people. There's a real website built, we've got half a dozen sponsors, and we'll be bolting on thousands and thousands of dollars worth of sponsored gear to the boat. We'll be taking sponsors, vets, showgoers and more out sailing, and the boat will be receiving some mainstream press coverage, and the skipper will be doing media engagements, a podcast interview and more magazine interviews. For a grass roots campaign, it's been an uphill battle from Day 1, but I fully believe that we'll get where we need to go, and Annapolis should be a turning point.
While i'm looking forward to Annapolis, i'm also enjoying New York but also reflecting on Newport. Newport was a whirlwind 12-day adventure where I feel like we got a lot accomplished. Arriving just days before the boat show, we rocked up to Fort Adams and tried to get the boat physically into the show, but it was too last minute. Undeterred, I walked the docks and spoke with several key vendors that I hoped to sign up as sponsors. I also met up with some old sailing magazine editor friends that I had known for many years, though only over e-mail. In the end, it ended up being a good boat show for us and it puts the campaign on a good footing heading into Annapolis. I signed up New England Ropes, Wichard, Ronstan and Chesapeake Sailmakers as sponsors, and have been doing official campaign announcements and adding them to the website under the sponsors tab, check them out. All of these companies are great companies that i've had a personal relationship to for many years, and they are all very good strategic partnerships for this campaign to form. I appreciate all of my sponsors immensely, and i'm glad to hook up with several of my favorite companies and vendors right off the bat. Another big win for us was that we hooked up with Sailing World Magazine's editor Dave Reed and legendary yachting journalist Herb McCormick; both blokes that i've worked with via email for a decade, but not actually met until Newport. We went on a ripping sail, had a BBQ and a couple of fun evenings, and they are also lining up a nice story about me and the campaign, which should begin to give us some real traction in the yachting press. Great to meet those guys. We also sailed the boat in 20 knots for the first time, broke a lazy jack and learned some stuff there, and also made great strides in being prepared for our first upwind delivery and our first offshore miles in somewhat challenging conditions.
Super stoked make some more stuff happen while here in New York, and to get the boat ready to move down to Annapolis and try to really, officially launch this campaign to the world. Momentum is building and I just need to keep on putting one foot in front of the other. Full delivery recap will be below.
The delivery from Newport to New York was a good one but a challenging one. In the end though, I only broke one thing (which is now alreday fixed) and we made it in just fine, and had a good time with a great crew that I was happy to have onboard. So all's well that ends well, but it was challenging and a lot was learned.
Departing at 9 AM on a Saturday morning, we left Newport in brilliant sunshine and a stiff, gusty breeze from the northwest. The area had just been lashed by a weather front and then the outskirts of Cyclone Fiona, which rolled over Bermuda pretty hard.
With two crew from Maine Yacht Center, who had just arrived the evening before, we left the dock and imediately hoisted a single-reefed main. The breeze was still strong and puffy, and we were hitting 11's downwind out of Narragansett Bay with just a single-reefed main. I wanted to put the second reef in the main, just to be cautious and learn the boat, and also to plan for turning the corner at Block Island and going upwind. While attempting to put the second reef in, we realized that the lines were not run properly. This was the first time that we had attempted to go deeper than a first reef, and so lessons were being learned early. Monkeying out to the end of the boom, I un-fouled a couple of things and then we opted to drop the main and re-run some reef lines and then immediatley re-hoist. Brett and Seth from Maine Yacht Center, while being novices on a boat like an Open 50, were both great crew and this early problem-solving exercise definitely was a good thing for us to gel as a team.
In no time, we had the main sail re-hoisted and into the second reef and our reef lines all looked clean now. With two reefs in, we set the staysail and reached and broad reached at 8-12 knots towards Block Island. In hindsight, I should have routed us north of Block Island and we could have knocked off probably 90 minutes, which would prove critical later in the trip.
Once around Block Island, the breeze had moderated to 15-20 with puffs maybe to 22 or 23 knots and we put the boat hard on the breeze (upwind). I'm still just using my judgement on any wind related numbers as our wind instruments still do not work. Fixing them is a high priority, but it can't delay me from getting the boat where it needs to be in these early days. Upwind with two reefs and a staysail, the breeze continued to moderate and head us, as forecast, until we dropped the staysail and unfurled the genoa.
Once past Montauk ( the eastern tip of Long Island ) we got some protection from Long Island and continued sailing hard upwind on a starboard tack in increasingly flatter water. Sparrow is a good upwind boat and performs well in a variety of conditions, and we mostly made 7-8 knots upwind. We should be able to go a bit quicker than that, but for the meantime, i'm more concerned with just making efficient movements and deliveries and not breaking things.
Near to sunset, the breeze started going lighter and we shook the second reef and went to 1 reef and a genoa. While the breeze was reliable and we had wind the whole time, it was constantly shifting by anywhere from 5-20 degrees. With a working autopilot, on compass mode, and no working wind data, the person on watch had to keep a close eye to lifts and headers, and adjust the autopilot course accordingly. We also did a lot of hand steering as well, as it was only a 1-day trip and we all enjoyed driving the boat.
Later in the night, the breeze headed us even further until it was dead on the nose and we had a convergence of inbound shipping lanes and the southern shore of Long Island. To avoid hitting shore or sailing in the shipping lanes, we had to throw in something like 8 or 9 tacks, with varying combos of full main, 1 reef and 2 reefs. With the shifty and puffy breeze, we did a LOT of reefing on this trip, which is good practice. The reef lines are amazingly long on this boat, and great care has to be taken to not have loose reef lines flailing about, as they like to get wrapped around the end of the boom.
The most excitement came at about 2:15 AM. As I was tucking in the second reef, we were also sailing into the shipping lanes, which became a necessity as the land converges with the lanes. As a cruise ship bore down on us, closer than I wanted to be to a cruise ship at 2 AM, I hurriedly tacked the boat back towards shore once I finished putting in the 2nd reef. In a hurry, I had errored and had forgotten to empy the starboard side water ballast before the tack. Once we tacked, we were extra heeled over due to the ballast being on the wrong side, so I again hurriedly began dumping ballast. In the process, I pulled too hard on the starboard forward ballast tank's dump valve and I yanked the handle off. Lesson learned.. those things are kinda fragile.
With ballast now stuck in the starboard forward tank for the time being, we sailed the boat as well as we could and then got the favorable wind shift, or lift, right on schedule at about 6 AM. From there, we were able to lay New York harbor on a port tack and eventually came reaching into New York under full sail. Just like the evening's sunset the night before, the sunrise into New York was stunning. Dodging anchored freighters and ships moving alike, we came ripping into New York at 8-11 knots, but we were running late and we knew it.
With a 9 AM high tide and a marina entrance that barely has enough water to accomodate our 12.5 foot keel, we turned on the motor and motor sailed as fast as we could to reach the marina in time. The weather gods shined on us and the breeze kept shifting in our favor and puffing up, right when we thought it was gone for good. Motor sailing at a good clip until just after the Verrazzano Bridge, we dropped sail and then floored the motor until we arrived at Liberty Landing Marina in Jersey City, New Jersey.
Just 1.25 miles north of the Statue of Liberty, the entrance to the marina has a channel with 8-9 feet minimum depth according to the chart. With an estimated 4 feet of water on top of that, we had about 12-13 feet of water, and dropping rapidly, on a boat that draws 12 and a half…. It was going to be close. We went full water ballast on the starboard side, swung the boom out to starboard and threw all the humans to starboard, as well as moved some stuff down below. Rocking a solid 12 degrees of heel, we skirted over the hump at the edge of the Hudson and then cruised into the marina with no dramas, though surely creating some type of spectacle to passing boats.
Another lesson learned – the boat doesn't handle well in reverse, under power, when fully ballasted and heeled to one side. So we dumped what ballast we could (since the starboard forward dump valve was broken) and then docked the boat. 26 hours dock to dock… mission accomplished! I was pretty worried about getting in just a bit too late and being stuck outside the harbor for 10 or 12 hours, but fortunately that was not the case.
As soon as we arrived, Brett and Seth had to get back to their car in Newport, Rhode Island so that they could get back to work in Maine the following day. So we basically docked and walked, after a quick shower and a quick boat tidy-up. Grabbing a rental car, we all drove to Newport back to their car, and then I had to solo mission back to New York City the following morning. What an insane two days of my life!
Again, massive thanks to Brett and Seth from Maine Yacht Center for their help, they were both legends. I ordered a new water ballast dump valve, which is actually a valve used in agricultural equipment. I had to do a morning mission to Brooklyn yesterday to pick it up, and then I got a couple of tools from a great hardware store in Brooklyn, and I installed the new valve yesterday. We should be good to go on that front.
New York is amazing so far! I'm hoping to do some more sailing while here, but logistics and weather may actually prohibit that as we are quite tidally bound in and out of the marina, and the remnants of Cyclone Ian are due to impact us over the weekend, which may interfere with our carefully scripted sailing plans. Thanks to Liberty Landing Marina, those guys have been great so far. Onward and upward, I am looking forward to the next leg to Annapolis and some big opportunites that lay just over the horizon!
Aloha,
Ronnie