As of this writing, Sparrow is now in Annapolis, Maryland and will soon be on display on the docks at the nation's largest boat show. Sponsors are coming onboard, new gear is being installed and we had a great run down the coast from New York so needless to say, spirits are currently high! I departed New York with two crew and we connected the logistics to get out at just the right time and the weather played out as forecast for an awesome and fairly quick delivery of about 2 days and 6 hours from Jersey City to Annapolis. Sparrow is currently riding on anchor in the Navy Anchorage off of the Naval Academy and will move on to the docks tomorrow. Super stoked to be in Annapolis and at the boat show! I think this will be a big turning point for the campaign.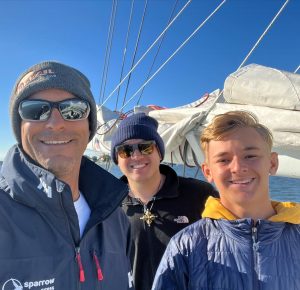 When we departed New York, it was pretty important to leave as early as possible that morning to get the best weather. Due to our 12.5 foot deep keel, we could only enter and leave the marina in Jersey City close to high tide, which sort of complicated things. With the boys both landing at 6 am and 6:30 am respectively, they would have gotten to the marina just a bit too late for us to depart on that morning's high tide. If we would have waited until the next high tide, it would have drastically changed the weather that we saw all the way to Maryland, so I opted to leave the marina and sail around the Hudson for a couple of hours until the boys could get to the marina. Once they got to the marina, a very kind English yacht captain named William ran my crew out on a skiff. Thank you William for making this happen!
Once Mark and Bryce made it to the boat, we were actually underway at 8:24 am on a Wednesday with a goal of crab cakes and beers in Annapolis on Friday evening. With a falling tide, Sparrow picked up 2-3+ knots of current at times which pushed us out of the Hudson towards the ocean at around 13 knots of speed over ground. Once into the ocean with two reefs and the Genoa, we continued cranking along at 12-13 knots in pretty solid northerly pressure. With an outgoing tide, shallow water and disorganized seas as a result of Cyclone Ian, Mark and Bryce both got pretty sea sick and went down below to sleep off their Mal de Mer.
Alone in the cockpit in relatively windy downwind conditions (20+) for the first time, I threw in my first couple of solo gybes. I had been chicken-gybing the boat before this trip, but after consulting some friends on how to gybe this boat, I began gybing in breeze and had no problems. Furl jib, drive deep, center the main, new runner on, old runner off, gybe boat, ease main, un-furl jib is the sequence of events and it worked well. Rocketing along at speeds in the low teens, I stayed fairly busy all day and averaged more than 11 knots even sailing the boat conservatively, while still learning a lot. Being solo in strong winds and with a very nasty cross swell from Cyclone Ian, and without working wind instruments, etc, I decided not to hoist a spinnaker, although the temptation was definitely there. My confidence in sailing Sparrow is growing day by day.
Later in the evening, we had sailed out of the grey and rainy stuff and the skies began clearing. The wind also shifted left as predicted and we were now sailing down the coast on a starboard tack reach in water that became increasingly flatter. Reaching in steady pressure, Bryce and I had a period of over half an hour where we were sitting on 15 knots with a reef in the main and a jib, just chilled out at 15 knots and hitting some 17's. Twenty-four times fifteen equals 360, and after seeing what I saw on Wednesday, I think it will be pretty achievable to average 15 knots around the clock in good conditions and rack up a few days of around 360 nautical miles during my Global Solo Challenge race.
That night, we had some drama just once when Bryce was on watch and didn't manage the runner properly and it became hooked on a life line which prevented the main sail from being eased as the breeze began puffing up. He shouted at me and I jumped up on deck and luffed the boat up to free the runner block from the life line and then tucked a reef in the mainsail. The situation could have been exponentially worse, as the block could have been compromised or damaged had conditions been gnarlier. Considering that the block in question holds the rig up when on a port tack, the ramifications of damaging this piece of gear are potentially high. We could have also ripped life lines or stanchions out of the deck or wiped the boat out and damaged whatever else. Moral of the story, all of the lines and the runners require a lot of constant attention and management and things can get out of hand in a hurry when sailing a boat like this solo in the ocean, and in increasingly bigger conditions.
We had a beautiful night of sailing and then things went pretty light the following morning and we began motor sailing and shutting the engine off in the puffs. By the evening, we reached the mouth of the Chesapeake and crossed over the tunnel that marks the entrance to the Chesapeake right at dark. We mostly had to motor through the night, again just shutting the motor off in the puffs as the winds were very, very light and we couldn't even average 5 knots under sail. When I was able to shut the motor off however, we were ghosting along at 6-7 knots in almost no breeze and perfectly flat water under a big moon. Special thanks to Mark and Bryce for helping keep such a good watch. One of my biggest fears with this campaign is wrecking the boat while sleeping near land and shipping, and having additional and competent crew on these coastal deliveries is so highly appreciated. Jose and Keith, Brett and Seth and now Mark and Bryce have all been great and I appreciate you all.
The following morning, the breeze began filling from behind and we set our new fractional kite, which is a nice blue assymetrical spinnaker off of a 42 or 44 foot boat or something. I got it off of a boat captain friend in Los Angeles and it fits the boat perfectly and is a heavy fabric, and so I think it's actually a pretty good sail for us. Sparrow certainly seemed to like it, as we were moving over wind speed most of the time it was up, oftentimes doing 8 or 9 knots in 6 or 7 knots of breeze. Using our ATN Inc spinnaker snuffers, we snuffed down the kite and then gybed the boat and then un-snuffed probably 3 or 4 times. By the time we reached Annapolis, we were feeling pretty well practiced and we carried the boat all the way into the very crowded harbor with a lot of vessel traffic around us. What a fun finish!
Kite down, main down, anchor down and we were officially finished! About 2 days and 6 hours to knock out over 400 miles from New York to Annapolis. Also, special thanks to the Naval Academy and the Commander there for granting us permission to anchor in the private anchorage, and also a special thanks to Greg the dock master from Liberty Landing Marina in Jersey and also William the yacht captain in Jersey. This trip has been a lot of fun so far as I've met a lot of really cool people who have helped me out when they could and that's been very neat to be a part of. This is a grand adventure but also a massive undertaking and I simply couldn't do this without a lot of helpful folks along the way, and of course the crew, donors and sponsors who are physically helping me get the boat from point A to point B, continually putting one foot in front of the other.
Annapolis has been awesome so far! The weather has been mostly fantastic, although sometimes pretty chilly at nights. We had a fun first couple of nights with Mark and Bryce, and have now had a couple of fun evenings hanging out on the Neel 45 trimaran Panda Rosso with Daren and Amanda from Outer Passage (outer-passage.com), which is a super cool private charter boat that we met in Newport. It's been fun to make new cruising friends and run into them in different ports! Bill O'Malley from Chesapeake Sailmakers and Elvstrøm Sails came out to the boat last night and finished measuring up and designing the new stack pack and mainsail cover, which should be finished and installed this week while on the docks for the boat show. I also picked up two large boxes from Ronstan and am now hard at work installing sheet bags all over Sparrow, which are going to literally transform the boat. New England Ropes should be bringing down some more cordage for me, so that I can replace the second outer reef line, the fractional spinnaker halyard, the jib sheets, the traveller lines and all the lazy jacks among other things. Wichard is also going to be bringing down some shackles and jack lines, and other safety gear and odds and ends. Dry UV and Renzwear also sent out 50 more shirts and a couple of dozen hats, so we should be stocked up with swag to sell as a fundraiser and give away to some friends and sponsors. Also, special thanks to the guys at Bacon Sails for hooking me up with some used anchor chain when I balked at the price of brand new high-test chain. It takes a village to make this happen, and I truly appreciate you all. Super busy right now, so going to post this and get back to work on the boat and pulling together other logistics for the show.
Aloha