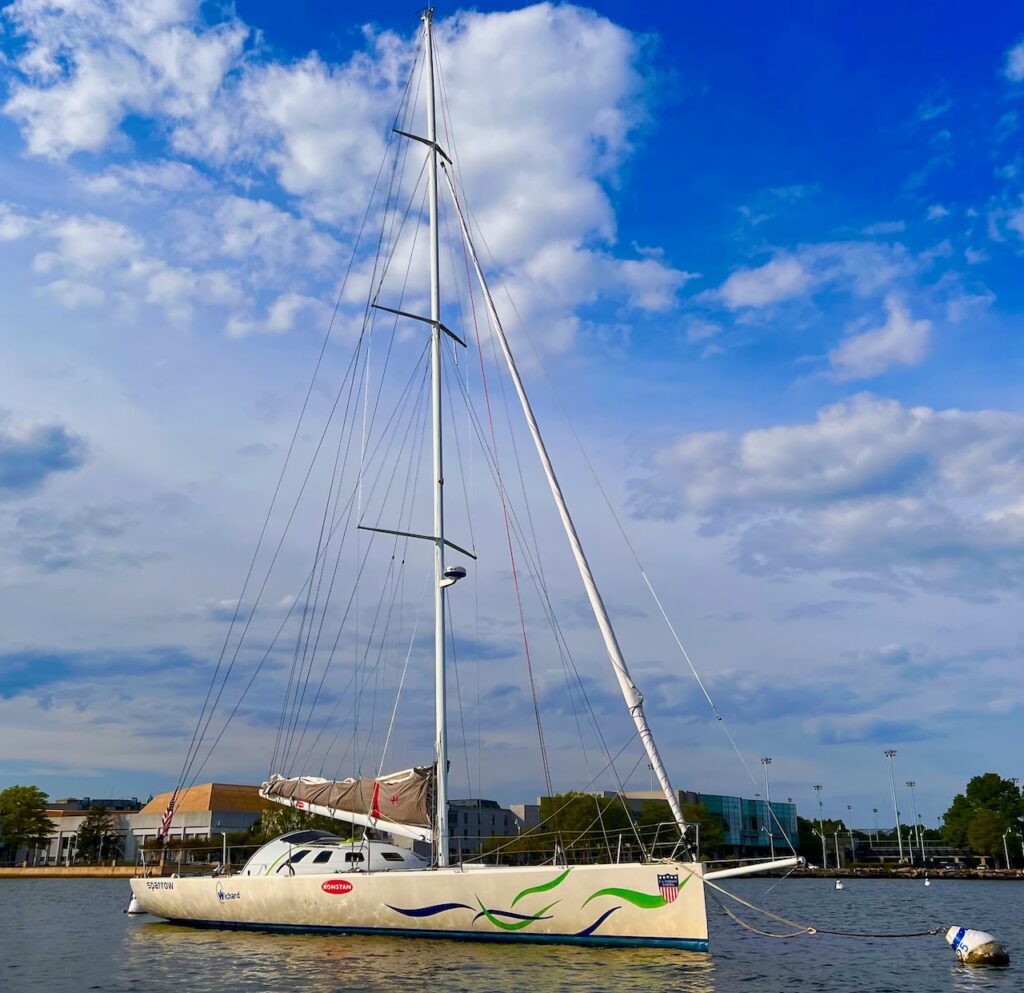 The mighty Sparrow, back on a mooring ball in front of the US Naval Academy in Annapolis, Maryland.
Spring has sprung here on the east coast of the USA and Sparrow is back on the high seas! As of this writing, there are now less than six months to get myself and Sparrow to the startling line of the Global Solo Challenge race in A Coruña, Spain. It's been a busy and productive few weeks since I left Beaufort and i'm just catching my breath and planning the next month. After leaving Beaufort, I sailed about 280 miles solo down to Charleston; my first solo sail on Sparrow. After about a week in Charleston, I sailed a tick over 600 miles solo up to Annapolis, Maryland to get here before my scheduled Safety at Sea course; a requirement for the race. As soon as Sparrow and I got here, I also managed to get into the Annapolis Spring Boat Show for a few days of engaging with the public and spreading awareness for our campaign. Now i've got one month to get a lot done before tackling my 2,000 mile qualifier.
Leaving Beaufort was definitely bitter sweet. I had spent enough time there that it had begun to feel like home, and I really like that community, but at the same time I was raring to leave and start getting towards the starting line. The original plan was to sail down to Charleston, South Carolina during Charleston Race Week and coordinate that with putting on the new sails and furlers, and then doing some day sailing and promotional and PR stuff with my sponsors. Everything is running a bit late however, so we now plan to add sails and furlers in Maryland before my qualifier. So with no real agenda in Charleston, I left Beaufort just after a huge northeasterly blow. In fact, i planned to leave one day but the harbor master in Beaufort talked me in to staying an extra day to let the ocean calm down, and i'm glad I did. It was my first solo sail on Sparrow, and I was quite happy to do it benign conditions. It was also the first real sea trial, aside from one short day sail, since a lot of work had been done on the boat.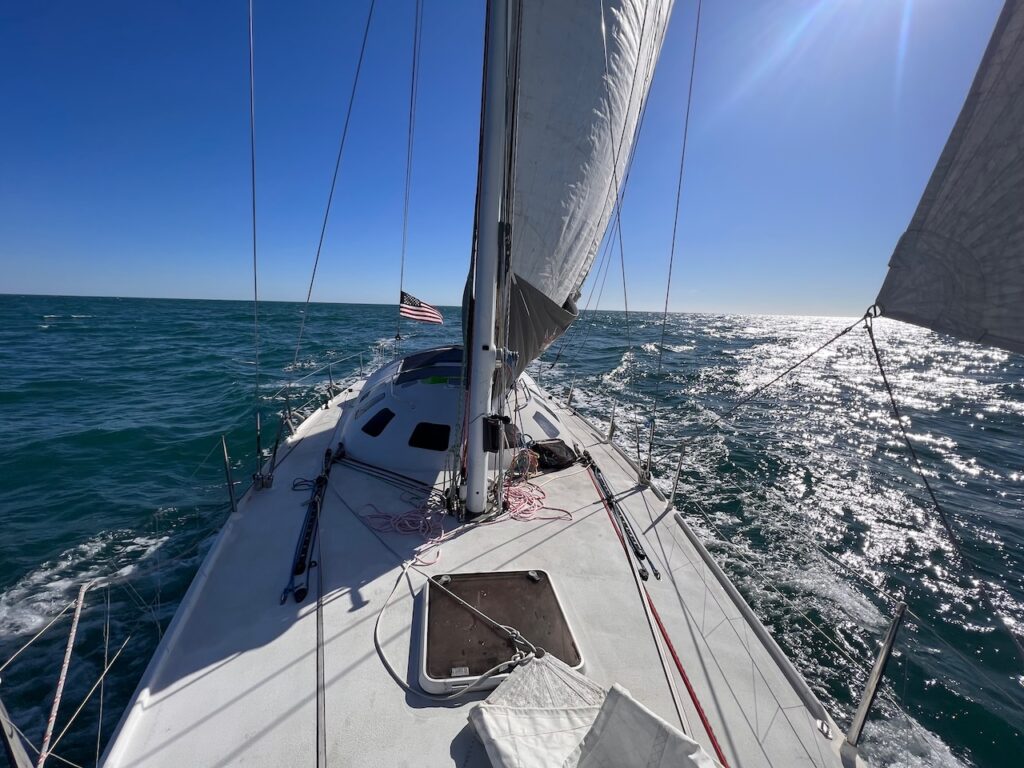 Beautiful sunny weather leaving Beaufort, North Carolina. The two large solar panels on the cabin top, which can be seen in this photo, are working very well, and that was a highlight of this trip was seeing how well the boat can be energy efficient in good sunlight conditions. Thanks to West Marine for these solar panels and for your support.
Departing Beaufort in about 15 knots from behind, I sailed downwind under main and jib until the breeze shifted and then gradually died. I continued sailing, not motoring, around Frying Pan Shoals and then eventually got pretty lifted and was sailing towards Charleston in a building breeze that would eventually peter off the following afternoon. On the second night, the wind died completely and I did some motoring and then motored into Charleston at 10 in the morning, about 48 hours after leaving Beaufort. Statistically, it was a slow trip down the coast in light air, but it ended up being a great training run and a good shake down for the boat. The majority of the systems are working well, and the boat is in good shape, it was confidence inspiring to see. Once in Charleston, I anchored to wait for a higher tide and less current for docking at the marina, and then I docked in at Charleston Harbor Resort Marina in Mount Pleasant at about 4:30 in the afternoon.
While in Charleston, I was hoping to participate in the Charleston Race Week regatta with my team members at US Patriot Sailing, but with getting to the starting line of the GSC being my sole task right now, I chose to leave Charleston at the start of the regatta and sail towards Annapolis. Although my time in Charleston was brief, I met some amazing people and really enjoyed being back in Charleston. Being a Georgia native who has spent most of his adult life in California, Hawaii and Fiji, it's been a bit of a surprise this winter to realize how much I enjoy being back in the South. Thank you to everyone who touched my life in Charleston.
Departing Charleston on day 1 of the Charleston Race Week regatta, I motored out of the harbor in beautiful 80 degree sunny weather and no wind. By the time I reached an outer channel marker in the ocean and cracked off, I was in about 6-7 knots of breeze and could make about 8 knots towards Cape Hatteras under sail, so I did so. The breeze was up and back down, but consistently light and mellow throughout the day. I worked through my fractional reaching kite and then my fractional runner before sailing through the night on a main and jib. By the following morning, the new breeze was really filling and I was rumbling towards Cape Hatteras at 10 knots or more. By that afternoon, I again changed to my reaching fractional spinnaker and then my fractional running spinnaker before dropping the kite in a building breeze that had reached the upper teens and close to 20 knots. Boat speed was consistently about 12-14 knots. I could have certainly carried the kite longer, but I knew that the breeze was anticipated to continue building but we were still going plenty quick to keep me happy. I am definitely sailing the boat cautiously and conservatively, but still trying to always keep moving at an efficient pace. From my perspective, this is all just 100% training and delivery miles, and the goal is to just get there without breaking stuff and continue gaining experience on this size and caliber of boat. The race starts October 28, not now.
That night was fairliy full-on as the breeze continued building into the 20s and boat speeds remained in the teens under reefed main and jib. As well, we began picking up the Gulf Stream current and that added 2-3 knots of speed over ground at times. So with 12-13 knots of boat speed and another couple knots of current, we rounded Cape Hatteras in the very late night and early morning at about 15 knots sustained, speed over ground. All under brilliant starry skies with ships surrounding us in every direction. There were fishing boats and other vesels that didn't show up on AIS, there were big tankers, other sailboats and even random AIS broadcasting buoys to avoid, that all laid dead in my course. Sleep wasn't even an option with so many hazards; each one capable of ending my entire campaign in an instant. I popped down below repeatedly to keep our navigation precise, and each time I stepped back on deck of my vintage Open 50 that was rumbling along in the teens, I couldn't help but feel like I was racing in the Vendée Globe. Sailing solo on a fast boat is so much more involved than having others around, and the sensations are that much more intense. In the middle of winter in North Carolina, I felt like I had become trapped in this never ending black hole of boat work. On a starry night in the spring time off Cape Hatteras, I had now discovered why. Eyes on the prize, Hatteras was a magical and inspirational moment for me and for this campaign. Cape Horn or bust.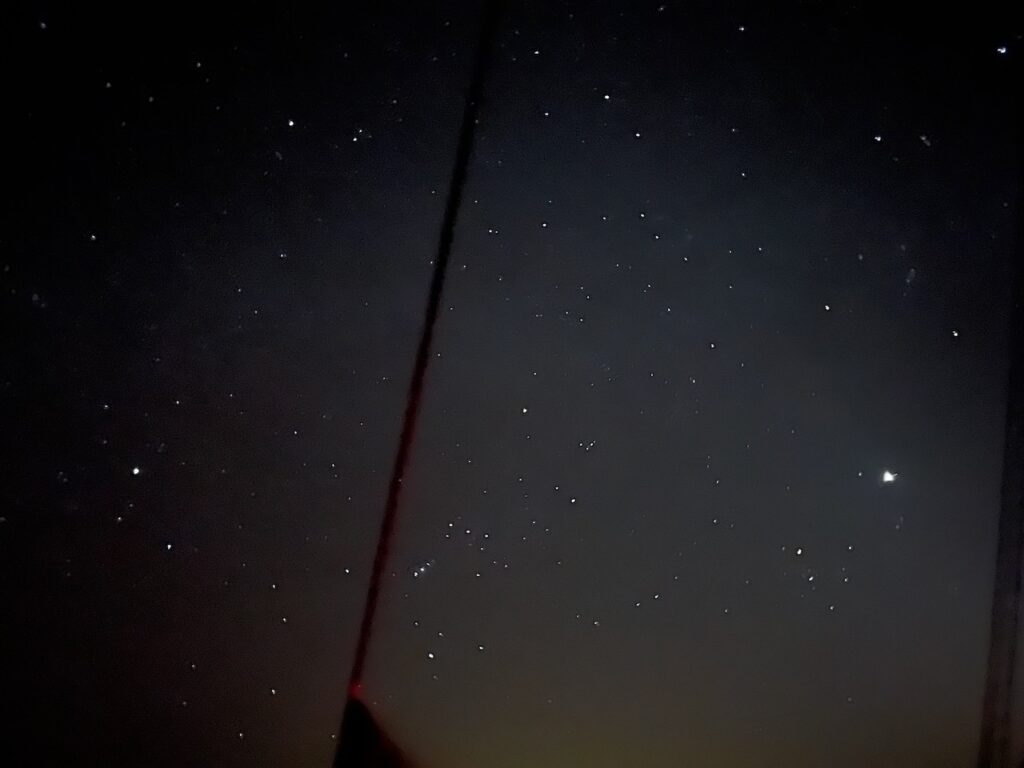 The next day we were ripping towards the mouth of the Chesapeake under reefed main and jib. I wanted to put a kite up because it would have fast and fun, but I forced myself to throttle back and just relax and try to rest. Not sleep, that was impossibility, but to rest. I had had no sleep the night before, and not much the night before that, and I knew that I wouldn't get more sleep on the night that was to come. Traffic would only continue to increase as I approached the Chesapeake and it's narrow funneled entrance. Another development was that a cold front was moving up the east coast and was going to intersect with my path, bringing me 'severe thunderstorms'. The VHF radio and it's near-coastal NOAA weather was warning of up to 50 or 60 knots, with torrential rains, lightniing and large hail that could do 'structural damage' to vessels. As the breeze had peaked at about 25 knots, maybe with puffs a bit higher, it continued to blow that strength and I though that I might be sailing into 50 knots, so I went ahead and switched down to the third reef and the storm jib – for the first time on Sparrow – both to be conservative and for the training. There was a line of black clouds ahead, and I thought it best to prepare cautiously. Sparrow still moved along at 7 or so knots.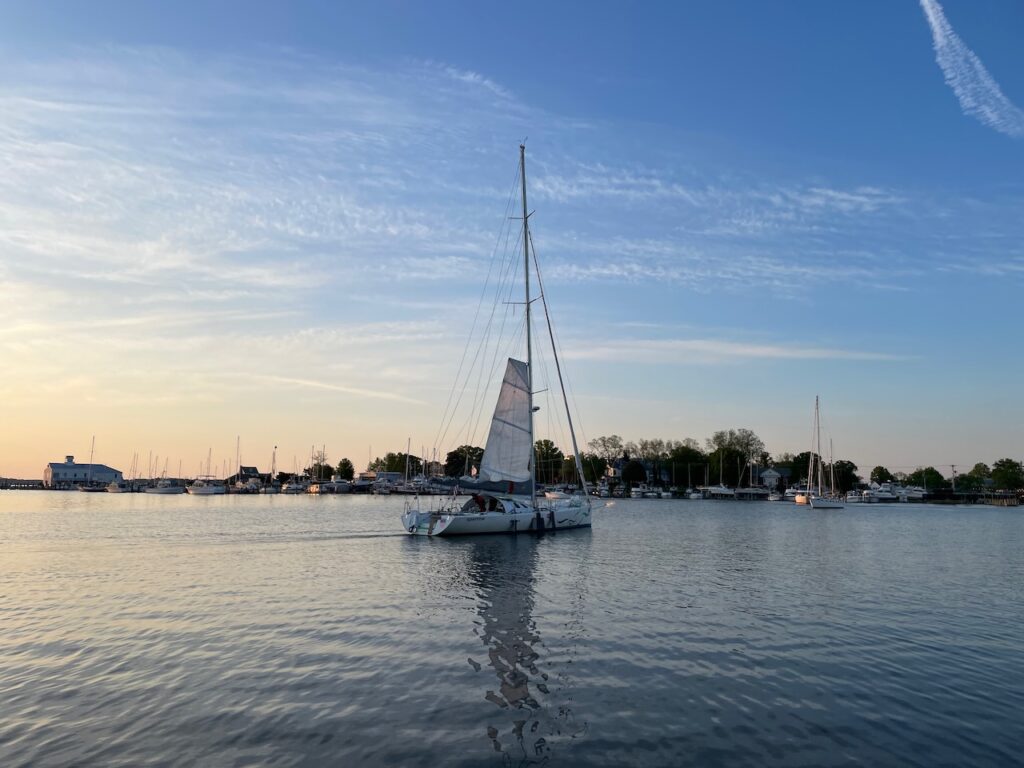 As we sailed into the black line of clouds and there was no rain. The wind went lighter, and so I started adding sail again to keep the boat moving. By sunset, the sky ahead of me was dark grey and there was very light wind and I was back up to full sail. As I began entering the channel to the Chesapeake, right as it got fully dark, things got fun. I was motoring with a full main and no headsail in zero breeze when the wind went from 0 knots to about 27 knots in under 30 seconds. With the lazy jacks on to support the boom, I struck the main halyard and got the mainsail down as fast as possible with the wind building so fast. In the sttrong winds, the boat was getting pushed around, so I throttled up the diesel motor and slowly motored almost dead upwind into the breeze, while entering the Chesapeake. With hail and rain that was really stinging my eyes, I managed to keep the boat between the reds and greens and not hit anything, and make it into the Chesapeake as the rain and breeze were backing off. An hour later, we were sailing upwind in 12 or so, with a reefed main and a jib. Dodging the moored freight ships under sail in flat water and clear skies was fun and exhilarating. With Sparrow now inside the Chesapeake at night, sleep was certainly not going to be an option. Eventually the breeze died and then re-built, so after a period of motoring we began beating in an increasing breeze that built into the low 20s and produced a horrendous short steep chop, due to the shallowness of the Chesapeake Bay.
Pounding upwind in tiny chop with a reef or two and a staysail, I felt bad for Sparrow, but acknowledged that all the little shock loads are a good sea trial. Bang, bang, bang, bang in the short steep chop. Short-tacking up the Chesapeake at night was very challenging. There wasn't too much traffic, only a few tankers, but there are a ton of buoys to hit. A ton. By the following morning, the breeze had moderated and then it died altogether pretty rapidly at about 10 am. On went the motor, but with the rain from the previous night now draining and dumping out towards the ocean, there was a solid 1+ knot of current against me. With my normal motoring speed of about 4 knots, well, you do the math, we weren't going anywhere fast. Annapolis before dark was certainly out of the question. I had a strong desire for sleep and some real food, so I managed to make it into Solomon Islands, Maryland before dark and tied up at a marina. With 48 hours of zero sleep and not much before that, I was knackered and fell asleep at about 7 pm after a cocktail and a mediocre appetizer; I didnt' even make it to my shower and dinner.
I slept in the following morning and didn't get my planned sunrise start, and so I decided to relax and stay put for a day in Solomons Island. After a long walk to stretch my legs and a couple of boat chores, I ended up meeting a couple of local boaters and then a young German named Lutze, who is preparing for the next Golden Globe Race. We had dinner at a cafe and then returned to Sparrow and conversed until we solved all the world's problems, some time around 1 am. The next morning at 6:30, Lutze came back over and shoved me off the dock and back out to sea. Short-tacking dead upwind in 10 knots of breeze that gradually died, I motored for all of five minutes before the sea breeze began filling and lifted me up to a beam reach. In breeze that mostly stayed below 9 knots, we sailed at wind speed or higher, making great speed up the Chesapeake. It was deep downwind, slow, sunny, and super mellow for the last couple of miles into Annapolis. Perfect for tying the boat up to a mooring, solo, and pumping up the dingny and getting ashore for a well deserved dinner. Charleston to Annapolis, done and dusted.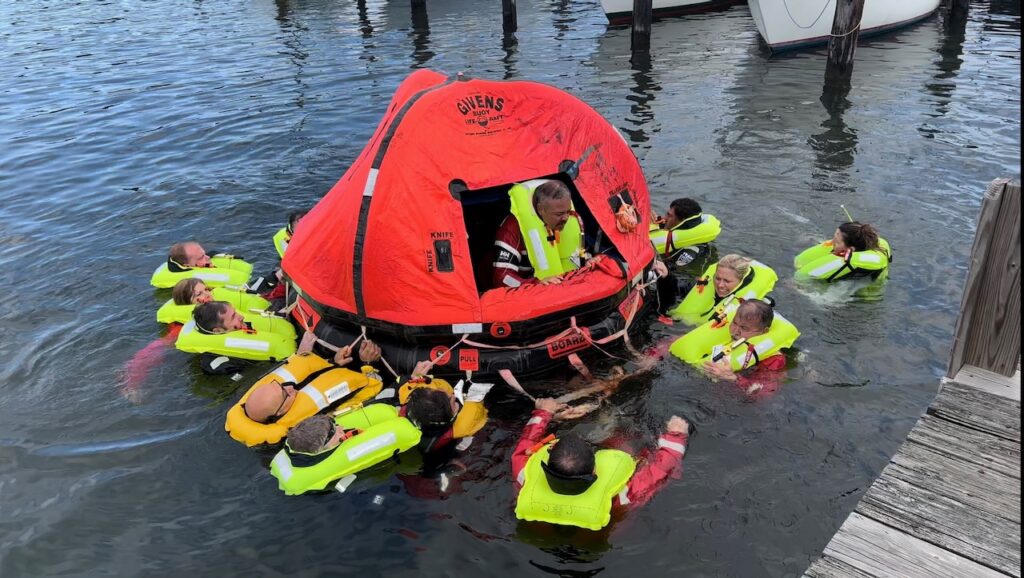 The next day I managed to get Sparrow into the weekend's upcoming Annapolis Spring Boat Show. Thanks so much to my friends at the Boat Show, especially Sheila and Mary for helping me out so much in both the fall and the spring. Unfortunately, the weather was downright awful on both Friday and Sunday, and I had my Safety at Sea course with US Patriot Sailing on Saturday. With my sailmaker Bill O'Malley and a young rigger and sailor named Ray holding down the fort at the boat show, I received valuable training on using flares, working through issues at sea, and using and getting into a life raft. It's all training i've had before, but it is always very valuable and worthwhile to receive current, updated training from professionals and to keep your skills refreshed. It's also another box ticked towards getting to the start of the Global Solo Challenge.
I now have about one month to get myself organized, get the new sails, forestay, furlers, etc received and onto the boat, and do some more fundraising, training, admin stuff and boat preparations before leaving on my 2,000 mile qualifier at the end of the month. More on that in future posts.