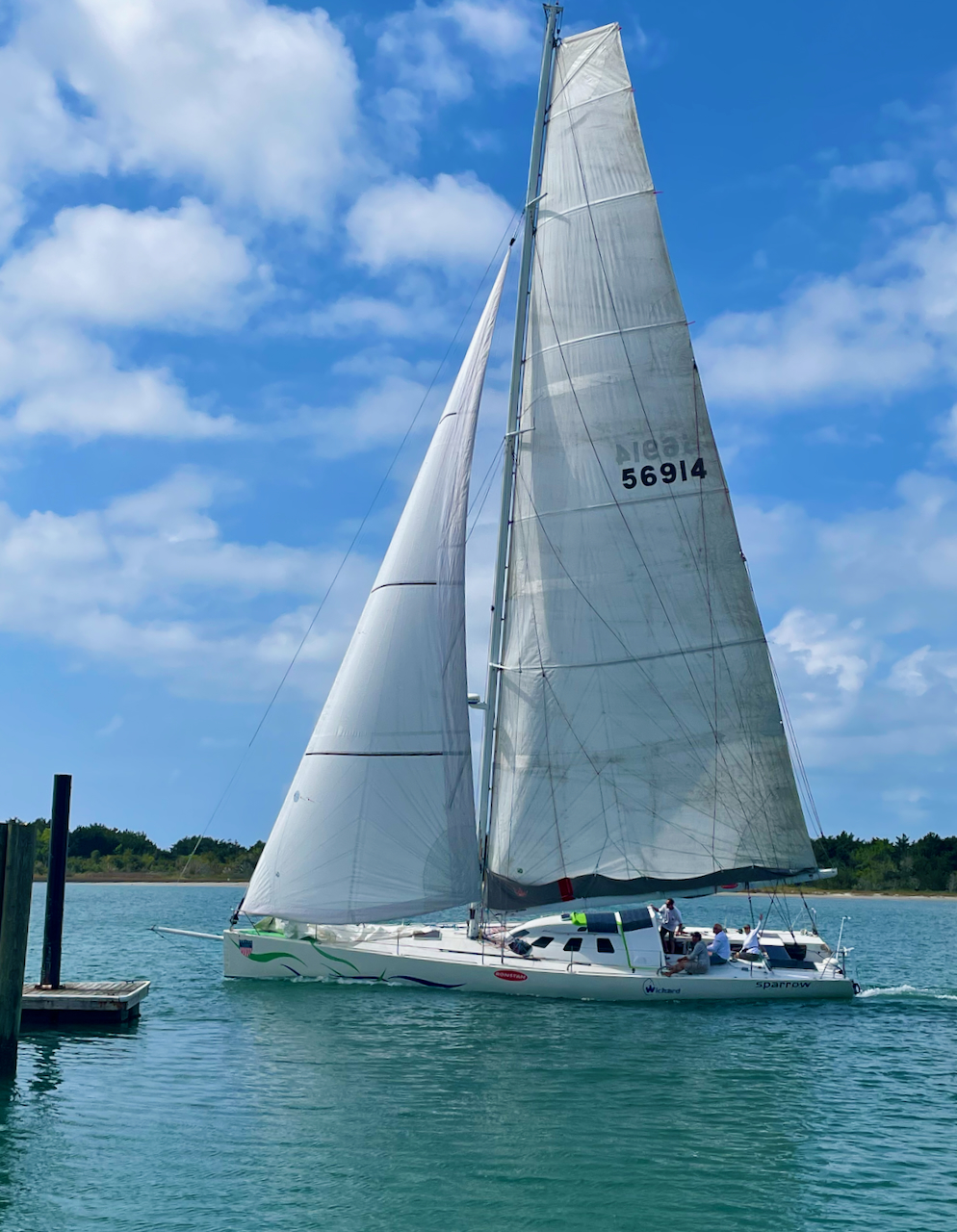 After more than four months in Beaufort, NC, it's time for Sparrow and I to cointinue on our way towards that not-so distant starting line in A Coruña, Spain in just six and a half months. When I first got to Beaufort, I had no idea how long i'd be here; maybe a few days, or maybe evem a month if they had a good monthly rate. As it turns out, they did have quite an affordable off-season rate and as my winter plans gradually changed due to a variety of reasons, it eventually made more sense for me to stay in Beaufort and knock out as much work as I could. The 'off season' has now ended however, dock space is no longer cheap, and it's past time for me to get moving. Also, I have now completed pretty much all of the major winter re-fit items that I wanted to finish before leaving. There is always more work to do on the boat, but it's now officially time to get the show back on the road. In a couple or three days, i'll depart Beaufort, probably solo, for Charleston, South Carolina. I'll be there roughly two weeks, during the same time that Charleston Race Week is there; Sparrow will sail some, but will not be racing in Charleston Race Week. After Charleston, plans include going back to the Chesapeake to install the new sails and furlers, and continue preparing for my 2,000 mile qualifier to be completed beginning in late May.
When I arrived in Beaufort, I had no wind instruments (since day one), a bad kncoking noise that developed in the diesel engine, and chainplates that had been in the boat and un-inspected for a long time. By my assessment, it was pretty much impossible to 'train' when you don't have wind data and therefore a proper autopilot, and no confidence in the boat. Now, those issues are resolved. As has been mentioned in previous blog entries, the mast was out in late January/ early February, primarily to replace mast wiring and add new wind instruments. There are now two new wind data cables in the rig, and I also acquired and re-furbished the little tiny stern mast for the boat's backup wind instruments, and then installed a new data cable into it as well. So, from zero working wind instruemnts upon arrival to three different options for functional wind instruments upon departure, the boat has been significantly upgraded here in Beaufort. Big shout-out to campaign sponsor Jerome at Sailutions in Los Angeles for his help with my NKE instruments.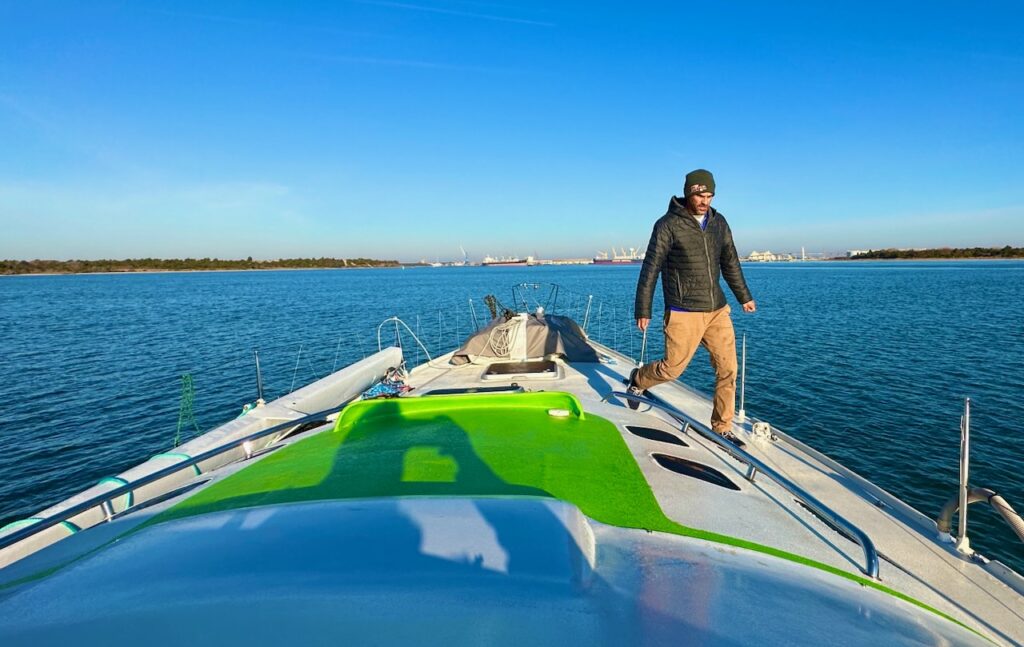 Throw back to when we pulled the rig at a commercial port in Morehead City, NC. What a wild adventure.
Next up was the motor; it had begun making a terrible knocking noise on the last delivery down from Annapolis. I looked it over, I had a buddy look it over, and I had two mechanics look it over. We couldn't figure it out. I pulled the motor in early January, thinking that maybe it was the 'engine drive plate' on the back of the motor. It wasn't. At a loss for more info, I re-installed the motor so that I could at least motor to and from the pier to pull the mast. As soon as the mast was back in the boat however, it was time to pull the motor again for a tear-down and rebuild. Once I got the motor out of the boat and into a friend's garage, I tore it down to a bare block over the course of the next two days, and found the smoking gun. The diesel engine, or 'Little Red' as a previous owner calls it, had spun a lower rod bearing on the forward-most cylinder. With a local mechanic advising me and helping at key points, I drove the crankshaft and head to a machine shop, we honed the cylinder walls with a drill, and I went to work on ordering parts for the rebuild through Beta Marine. Huge shout out to new campaign sponsor Beta Marine for sponsoring most of my motor parts.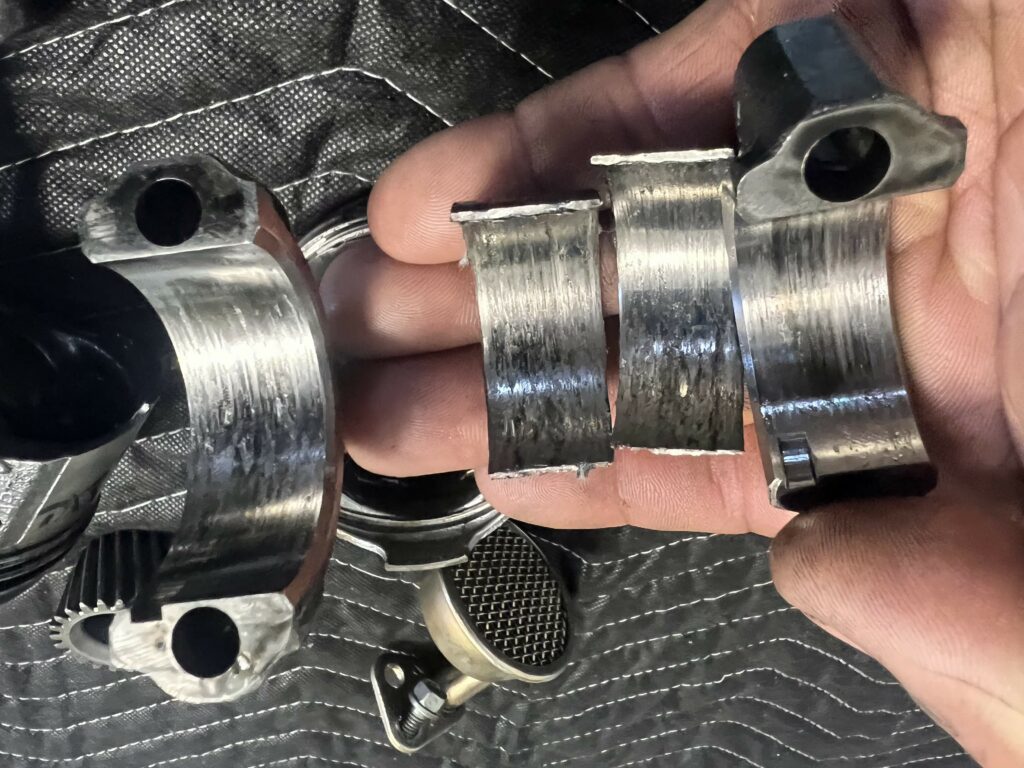 .Throw back to that one time that my least bad option was to tear down a diesel motor for the first time, by myself in a garage, but then I found the source of all my problems. A spun lower rod bearing. Another wild adventure.
I basically needed all the standard stuff – pistons, rings, bearings, gaskets, etc, with the notable addition of one new connecting rod and I needed some machine work done on the crank shaft. Unfortunately, the machine shop messed up the crank shaft and my mechanic JJ and I discovered that it was off once we re-assembled the motor the first time. The bearing journal had effectively moved North, just a tiny amount, but enough to make the forward most piston go too high in it's stroke and contact the head and valves. The motor was locked up and wouldn't turn over by hand. Once we figured out what was going on, I made the decision to purchase a new OEM crankshaft. This was a large un-expected expense, but I just didn't want to be ghetto and mill down one piston, or have that crank shaft worked on or modified any more. I also could not afford any more time delays.
After the new crank shaft was ordered and overnighted, I tore the motor back down and prepped to re-assemble the motor with JJ and the new crankshaft. Everything went super smoothly, as we both now knew the motor really well. With the crank and rotating assembly together, and head re-installed, he went home and I was going to put the rest of the parts back on the next day. While throwing the box and packaging from the crankshaft away, I found a note in there that said that there was an anti-corrosion lubricant on the crankshaft for storage, and that if you installed the crankshaft without cleaning it first, your engine would seize due to the oil holes in the crank shaft being plugged with anti-corrosion lube. My heart sank. I feel dumb in hindsight, but I saw this immaculately clean engine part, brand new in a box, and assumed it was ready to install. Because I referenced the Kubota Workshop Manual for the entire rebuild, I was intimately familiar with the part and thought I was good to install it. I wasn't. Despite the fact that I had paid JJ to help me re-assemble the motor two times (once with the bad crank shaft and then once with the un-washed new crankshaft), I now had to tear down and rebuild the motor a third time, by myslf, as JJ was busy and I now knew the motor inside and out.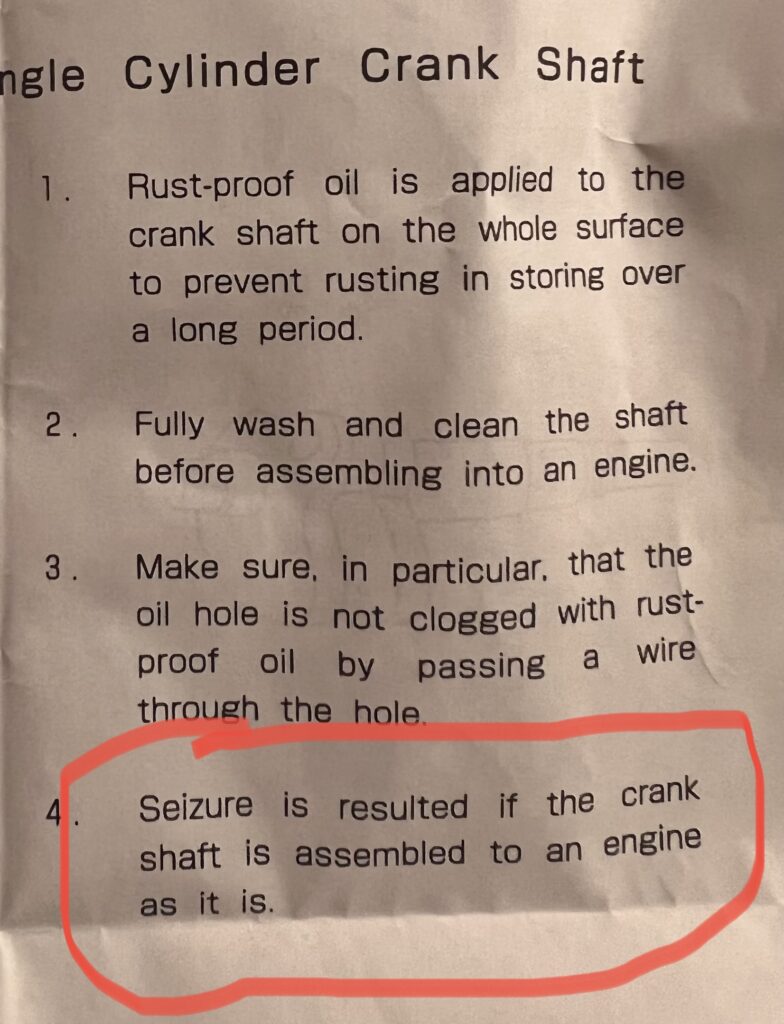 Reading this note at 1130 pm, after a couple of days of a super hard push was an absolute gut punch. I wish that feeling on no one.
The next day, I set out to the garage and then tore the motor back down, washed the crankshaft off thoroughly and rebuilt the motor. Again. (The crank looked perfect by the way, the oil holes were not plugged. It would have been fine to run it as originally installed, but without tearing the motor down and verifying that, I would have never known.) As I was on the last bolt before putting the oil pan back on, I had a bolt fail on me before it reached it's manufacturer specified 20 ft.-lbs of torque. My heart sank again, for the second time in as many days. I had snapped a bolt head off that holds one of the main bearing carriers in place. I very, very luckily managed to fish it out and un-thread it with a long pick in about 2 hours, and then had a borrowed car and drove all over the place the following day to find a replacement. As luck would have it, the bolt was an extremely odd and unique bolt, that was M7 thread, with a flanged head that needs no washers, and it had splines down the side and was only partially threaded. The only place i was going to find one was Kubota, and so I ordered another bolt through Beta Marine/ Kubota, and had a $6 bolt shipped out with the standard $125 overnight/ expedite fee attached. So after paying $131 for a $6 bolt that still took 5 days to get here because of the weekend, I managed to put the new bolt in and re-assemble the rest of the motor totally by myself.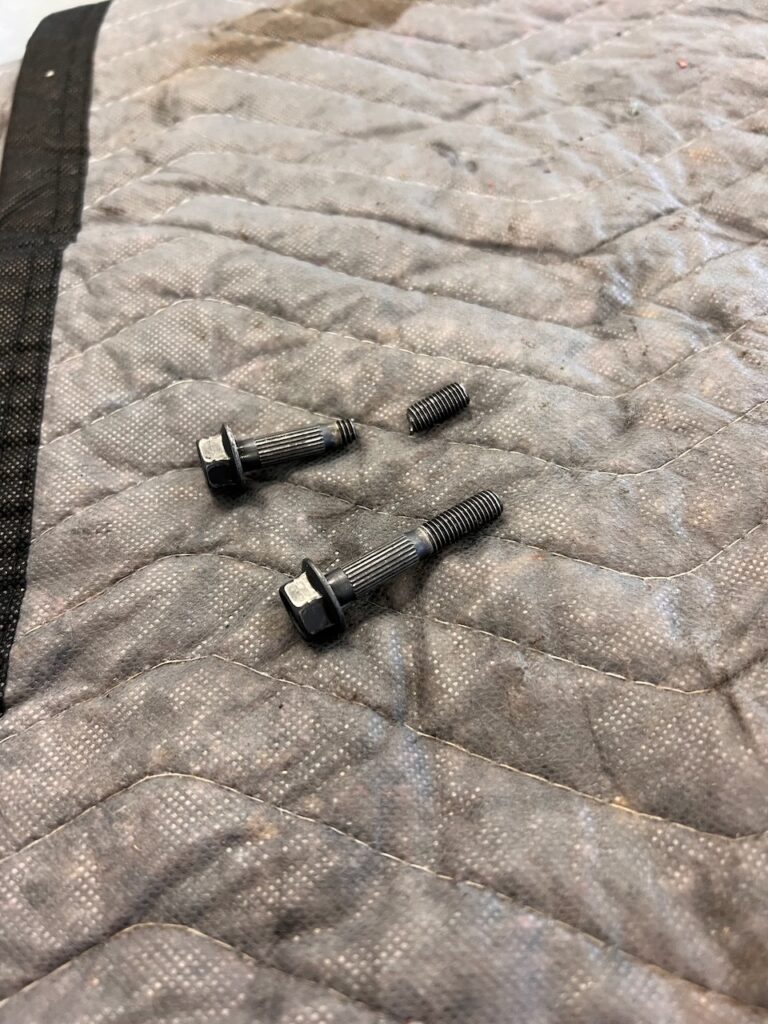 Unbelievably frustrated by this point.
Once the motor was re-assembled, I put it in the trunk of a car, drove it back to the marina, wheeled it back do the dock in a dock cart and then got two neighbors to help me drop the sub-200 pound motor back into place. Once all hooked up and re-installed, I couldn't get it to fire, but JJ helped me sort that out. There were two crush washers on the end of my recently serviced fuel injectors and not one. After removing the extra washers, the motor fired up but the throttle wouldn't work. He figured out why and fixed that, and then we tested the oil pressure, which read very good. While still dialing in the motor and doing more maintenance to the boat, I went to prepare the boat for a test sail, and when I closely inspected the main chainplates – the only two that I had not yet pulled and/ or replaced – I found two small cracks  in the starboard one. Taking the cracked chainplate out of the boat and over to Lindow Metal Works, my metal guy Noah ordered the metal, but unfortunately a person ended up cutting that metal and then creating a shipping label for it, and leaving it sitting on a shelf in Minnesota for 8 days before shipping it. Another big time delay. Eventually, the metal came in and he built the starboard chainplate one day and the port one the next day. That was just a few days ago, and we were on the water the next day sailing for what will be my only post-refit test sail in Beaufort.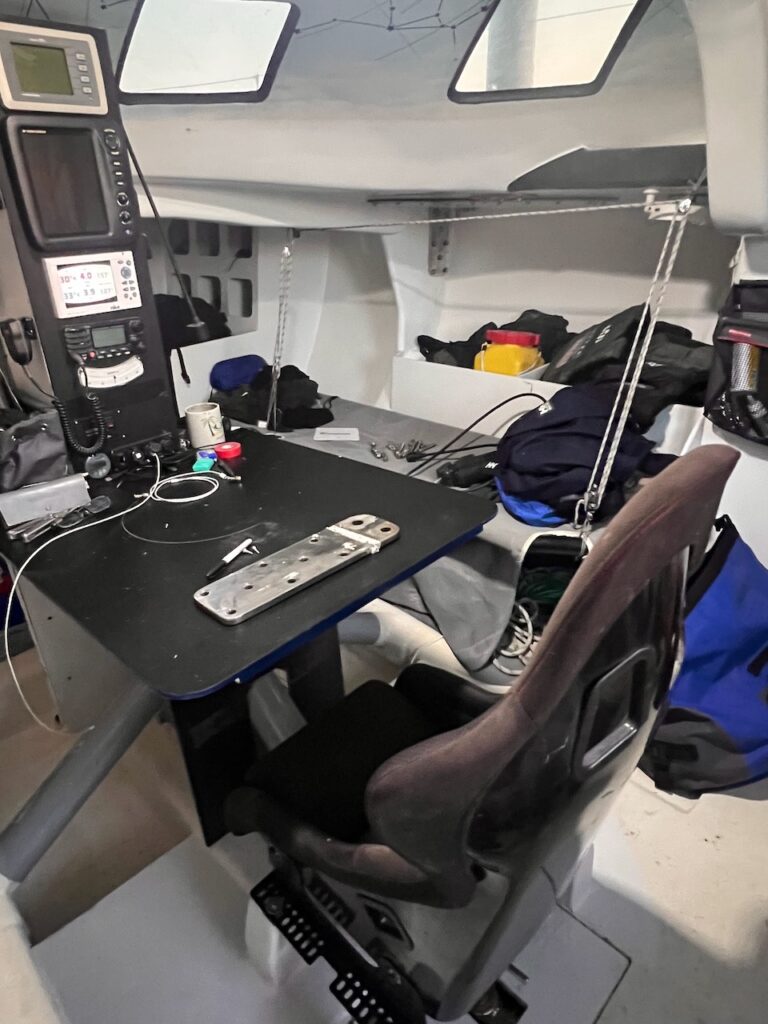 Looking a bit more dialed every day.
In addition to the wind instruments, motor and chainplates (the bow and inner forestay chainplates were covered in past blogs), I have also installed more solar power, an inverter, Starlink satellite communications, a B&G chartplotter, serviced winches, got the Watt & Sea hydrogenerator rebuilt in France and then installed back on the boat, installed a totally new Pelagic tiller pilot as a back up, and completed a number of other repairs and upgrades all over the boat. I also installed a race car seat at the nav table, which is something I always wanted. In many ways, it feels like I did not make the most of my time here, and that I was constnatly incurring time delays, but on the other hand, i've done a lot of work to the boat and it's much further along in it's preparations. Everything on a boat takes twice as long and costs twice as much as you want it to, but such is life. It is also extremely humbling working on a campaign like this, largely by myself.
I am really looking forward to getting Sparrow back out on the water and sailing again. We had a good test sail on Thursday and i'm looking forward to leaving and heading to Charleston in just a few days. I will be creating some articles and video to go over the solar install and some other equipment installs, courtesty of West Marine, and i'll post those soon. Very excited to continue on my journey, but bittersweet to leave Beaufort, North Carolina as well. More than four months here, it feels like I live here, and I really have grown to love this area and this community. To everyone who touched my life while I was here in Beaufort, thank you. It's not good bye, it's see you later.
Coming in hot, Charleston.