As of this writing, Shipyard Brewing is less than 750 nautical miles from A Coruña and making steady miles in mostly the right direction. My crew mate Ed McCoy and I should be in to A Coruña by some time on Wednesday or on Thursday. It looks like we'll encounter some pretty heavy weather from the southwest and south-southwest as we make our final approach on Wednesday. But for all of Tuesday and Wednesday, we should be pointed right at the mark and going relatively fast in good breeze, even with small sails up. We haven't had a fast delivery, and we have also sailed the boat very much in delivery mode for a number of reasons. While it's been relatively slow, I will be quite pleased if we can continue to not break stuff and simply get the boat to the starting line with the boat in one piece. As an added bonus, Ed and I still seem to be friends despite some downright offensive freeze-dried fueled flatulence and having two cantankerous boat captains sharing one small cabin.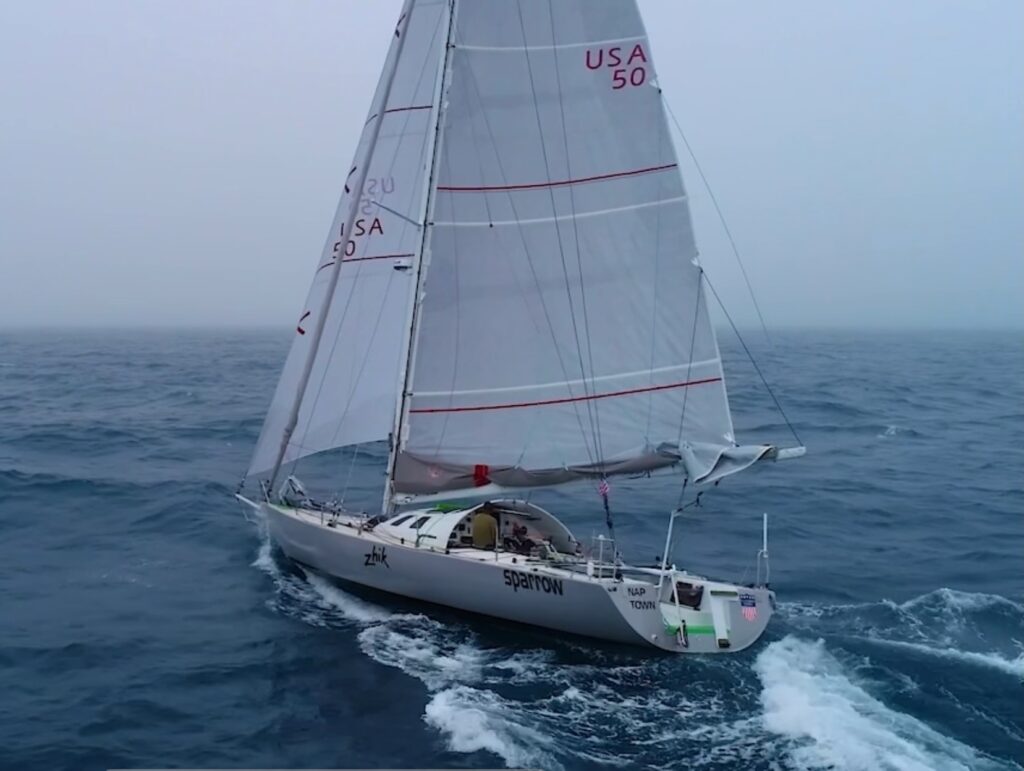 This delivery to Spain has been a good shake down for the boat and for myself, and I will be creating a very focused work list as soon as we get to Spain, with almost everything centered around redundancy and reliability. I plan to pull the mast back out, as there are several small things I want to address that will just be a whole lot easier with the mast on land, and not vertical on the boat. We will also probably pull the boat out of the water to do some branding/ decal work. While the mast is out and the boom is off, I want to do some minor gooseneck work, mainly making some custom washers or shims to alleviate any slop. Also, the sails will need to come back off the boat for branding and some minor modifications. The two kites and the fractional zero are good sails, but the masthead Code Zero is a bit long on the luff, so I want to have the luff shortened. Also, I plan to add a fourth reef to the main sail as the third reef is just not as deep as you will really want it in very heavy breeze.
Pretty much most of this trip we've been a bit handicapped on our autopilot and instruments, but these will all be relatively easy, and in theory, very effective repairs. Our NKE AluWind HR wind instrument at the top of the mast has a pretty poorly designed mounting bracket that was supplied by NKE. It is basically a little plastic bracket that gets bolted to the mast and then the round tube of the wind instrument fits into the bracket and you simply tighten it down with a bolt. The tighter you tighten the bolt, the tighter that the bracket holds the wind instrument. But with a round wind instrument in a round bracket, there's nothing keyed or mechanically fastened to prevent the instrument from rotating. During our first big pounding east of Newfoundland, the wind wand rotated about twenty degrees to starboard. (We also lost our masthead windex, a first in my sailing career.) In a light spot between our upwind pounding and this new breeze, I went aloft and straightened the instrument and then tightened the mounting bolt. Literally two or three days after, we pounded the boat through some waves again, and the wind instrument again rotated about 20 degrees off to starboard. Maybe not a big deal you think, but if the wind wand is offset and theoretically free to rotate it creates a scary situation where all of your wind data numbers are off and you are liable to pound off a wave and have the instrument shift, which could cause the autopilot to crash the boat. Nothing we can't work around during this delivery, but something that needs to be addressed before the race. I have a second wind wand that I wired the masthead for, and I should have put it on before this delivery. It is not subject to rotating, due to it's design. It will definitely be installed aloft before race day. We have been steering a bit more conservatively with the back-up wind instruments, which live on a little mast off the port side of the stern. As a result, they work better on port tack than on starboard tack (especially upwind), where the wind instrument is subject to a significant amount of aerodynamic turbulence, and therefore won't work very well. 
Another issue that we had with the boat was that several days ago we tried to drop the staysail and go to the storm jib in 30 or more knots of breeze and the staysail wouldn't come down. The staysail halyard, which I had never had a problem with before, had somehow managed to jump the sheave and get wedged in between the sheave and the mast. The sail was stuck hoisted. Ed helped crank me up the rig in 30 knots of breeze and I cut the halyard to drop the sail. Fortunately, we have a secondary staysail halyard installed in the mast, and we have now been using it on this trip. The halyard setup is in hindsight very sub-optimal, but will be an easy fix. A bigger diameter, fatter halyard, as well as a new wider sheave, or just some custom delrin washers could help get rid of any slop or gap, and the fatter halyard wouldn't want to get stuck in there. I'm still shocked that it happened, but I absolutely have to make sure this can't happen during the race. As one small silver lining however, it was eerily beautiful to go aloft in a near-gale and cut a piece of rope and then watch a sail fall down to the deck. My climbing helmet doesn't have a GoPro mount, I need to add one. 
Our electrical issues from earlier in the trip seem to be well sorted out and our new charging system is working well, though we plan a lot more charging work in Spain. Once in Spain we plan to remove all of the existing solar and nearly double it's total capacity with new Solbian panels. I also intend to add a wind generator. At that point our engine alternator and hydrogenerator almost become merely a back up, as the wind gen and new solar should have us pretty much energy net positive around the world. In addition to the things listed above, there are still a number of safety gear or other items that need to purchased and/ or addressed to have Shipyard Brewing in full compliance with race rules before the start.
If you've been following our trip across and keeping an eye on the weather, you will have noticed that we've been dodging cyclones and surrounded by low pressure systems for much of the crossing. As a result, there's almost always been a cross-swell component that throws the boat around. Pounding upwind in chaotic seas east of Newfoundland was a real low point for us. Combined with our less than ideal wind instrument set-up off the stern and a couple of other variables, we have been sailing the boat quite conservatively; relatively short on sail and also not running as deep as is otherwise possible when sailing downwind. This is after all just a delivery to the start, and there is little incentive to push, other than to position ourselves in accordance with the weather. The goal is very clearly to get the boat to the start in one piece and not break stuff. We still have five weeks to work on the boat every day, and i'll have a small army there by the end, where we should be able to do some real damage to any required list of boat work. It will be a race to the start line, which will go on to the last day, but that's all part of the Shipyard Brewing program. Ever since I acquired Sparrow (now renamed Shipyard Brewing) a year ago, I always knew it would be a long and drawn out battle to just get to the start line with a well prepared boat, but I can definitely now see the light at the end of the tunnel. I still think it's super cool that i'm sailing my sponsored up Open 50 across the Atlantic towards the starting line of a solo around the world race. Life is funny. 
It's been nice to be back at sea, but again, this delivery is all just a means to an end to get the boat to the starting line. This wasn't a summer holiday or adventure, this was a delivery that had to happen on a timeline, cyclones and all. A true unexpected highlight however was to spend a 3 day cyclone delay in Nova Scotia, Canada. What an amazing place, and I hope to return one day. There were about a million dolphin and porpoise sightings closer to Canada and we've seen a lot of bird action, especially yesterday even though we were some 500 miles north of the Azores. This morning we found a small fish in the cockpit today for the first time. We didn't see wings on it, so it wasn't a flying fish. Perhaps it just got shipped on deck last night by a wave. As much as I love seeing wildlife at sea, i'm hoping to not meet the rather infamous pod of orcas that like bumping rudders off the coast of Spain. We'll be coming in hot to the finish, in rough seas, and so i'm kind of hoping that the orcas will be less likely to come check out my rudder. Most film I have seen of the orca attacks seemed to be in light air. 
Pretty much as soon as I get to Coruña, Ed has to fly back to California but Chris my shore crew and Marisa my girlfriend are flying in. Marisa only for a week, but Chris is there until the start. I am so excited to see them, though a bit bummed that our constant delays mean that Ed has to go to the airport as soon as we hit land. Would have been nice to at least get him day drunk and buy him a steak, he's earned it. Thanks again to everyone who has supported this campaign, and I can't wait to finally meet Marco and all the other characters associated with the Global Solo Challenge… and to re-unite with Dave Linger! We were docked next to each other in Maine, perhaps it will be the same in Spain! With Marisa, Chris, Dave Linger and Shipyard Brewing all in Coruña in a few days, it will almost feel like Maine again! 
Aloha from Shipyard Brewing
-Ronnie Simpson