I've now had the boat out of the water and in the shed at Maine Yacht Center for almost two weeks to begin conducting our re-fit before heading over to Europe. The people at Maine Yacht Center have been awesome to deal with and I am very grateful for them and their hospitality in helping get Sparrow ready to go to Europe for the Global Solo Challenge. At the present, the bottom is all sanded down and mostly prepared prepared for paint, while the topsides (hull) have had the painted stripes sanded off and all decals removed so that we can pfepare for the grey vinyl wrap. Also, the mast is out of the boat and also in the shed to receive new rod rigging/ service/ inspection. Huge thanks to Sparrow's former owner Whitall Stokes and also to new team member Chris Passas for their help during the first part of our haul-out.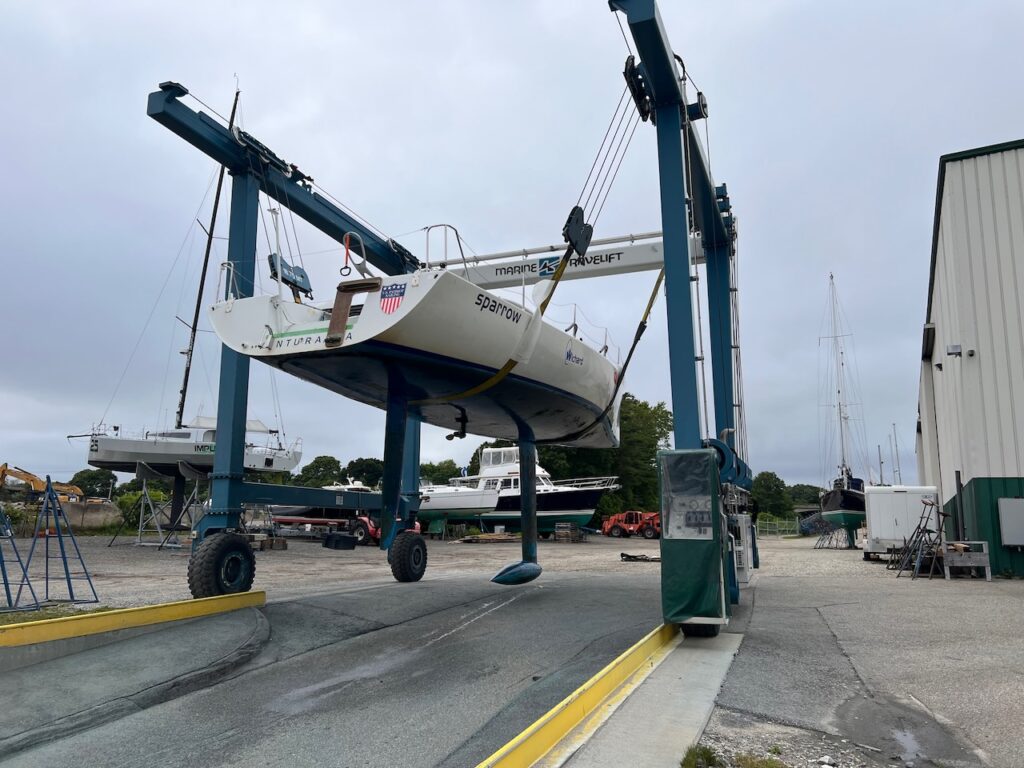 It's a lot of work and has been long days of sanding and working on an Open 50 day in and day out, but Sparrow should come out of the shed looking almost like a new boat. I'd like to give a huge shout out to West Marine for their continued support and sponsorship of my campaign; we've been using a lot of our budget from West Marine to acquire our bottom paint and haul-out supplies. We are using Sea Hawk BioCop TF bottom paint in black and Sea Hawk Color Kote paint in red for the keel and rudder. This is a good semi-ablative paint that should be durable, perform well as an anti-fouling paint, and also self-polishing and fast.
We originally planned to spray on a racing bottom, but the yard has advised me to roll the botom paint on. Because of Sparrow's size and draft, we can only get her into the paint booth if we remove the keel and rudder, which will be very expensive. If we were to leave the keel and rudder on, we would have to fully tent the boat to spray it and that would also be very expensive. So the yard has advised me to just do the best job I can and roll on the bottom and that it will be very incrementally slower, but that in the long run it won't matter much. But it will save me several thousand dollars which will go a long way to paying my yard bill and for my rigging.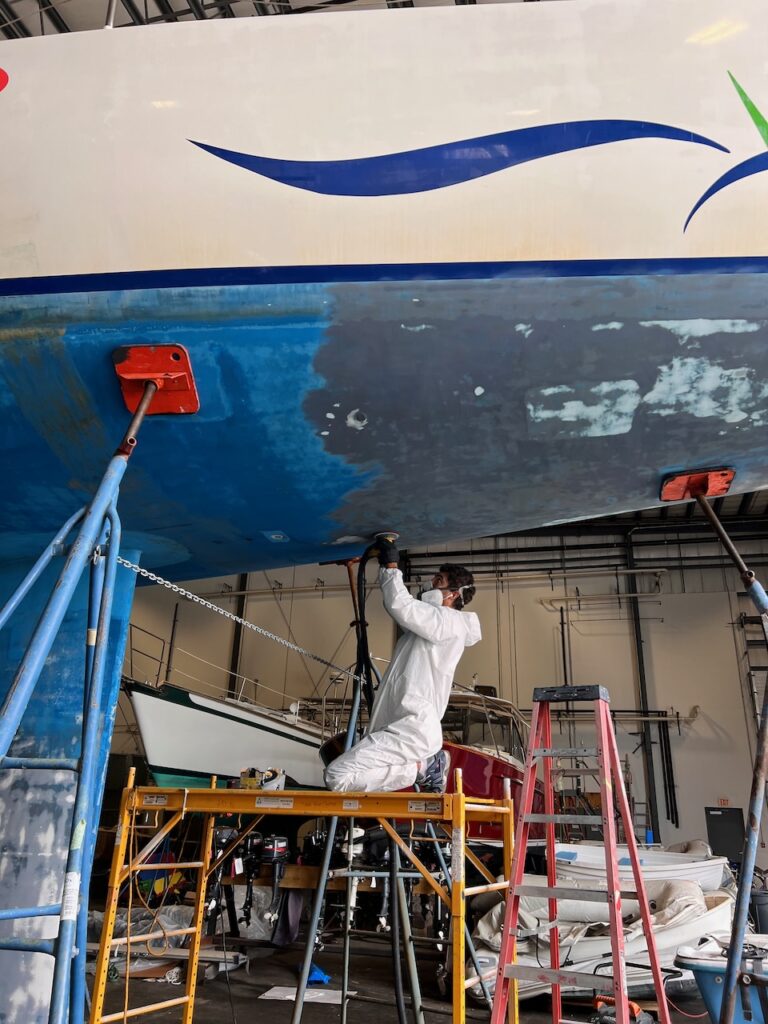 Here is a run-down of the main projects we are undertaking:
1.) Remove mast for inspection/ re-rigging, etc. We are having new rod built and re-using some parts, but will have those undergo non-destructive testing.
2.) Sand and prep bottom of boat for paint.
3.) We found a small crack on the hull on the bottom, and had Seth from MYC fix that.
4.) There was a small crack in the top sides from a very unforgiving dock in Charleston, so Seth also fixed that.
5.) There used to be a kelp cutter installed on the keel when Sparrow was a So Cal boat. The kelp cutter was removed and faired in, but the fairing has taken a beating over tens of thousands of miles and needed some love. So I re-faired it and then laminated some fiberglass to hold everything in place and preserve the fairing. If left un-fixed, this could potentially ruin my race.
6.) Fix a small ding in the keel bulb where we hit a submerged pylon last summer in Maine. Another well known race boat hit it too, and the state has since removed the pylon.
7.) Have Maine Yacht Center put a piece of acrylic (plexiglass) down on the cabin top where there used to be a hatch. I broke the hatch on my qualifier when I left it open by accident. I am removing the hatch and putting plexiglass over it as the hatch seems like a liability that is just waiting to get broken during my race and would leave a hole in the top of the boat, which would be bad.
8.) We are having the boat vinyl wrapped gloss grey. I have sanded down the topsides and prepped the topsides for the wrap. I sanded down the existing painted on stripes near the bow and I have removed all of the old decals.
9.) Sanded the cockpit and some of the foredeck down. We are going to do new non-skid deck paint in the cockpit and part of the foredeck.
10.) We are working with Bruce Schwab (legendary Vendée Globe sailor) to revamp our charging system/ lithium batteries, etc. The old setup was a legitimate fire and safety hazard, so I have had to bite the bullet and order Lithium batteries and a battery management system.
11.) I will probably be having two more rope clutches added to the starboard side of the mast.
12.) Remove radar, figure out what's wrong with it and fix that.
13.) General servicing of mast and running rigging, and replacing some running rigging very soon.
We are undertaking many other projects as well, such as installing a new autopilot computer and parts, etc, but this is the main work list for painting the bottom, wrapping the topsides, doing some deck paint and then getting the rig serviced and back in the boat.
Again, thanks a million to Maine Yacht Center and to West Marine for their support during this haul-out! I will write more once the boat is looking like a boat again and is almost ready to sail. Back to putting on a Tyvek suit and respirator and getting dirty.
Aloha,
Ronnie