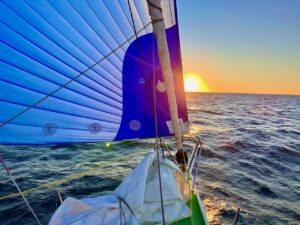 Just after Thanksgiving, Sparrow bit off her next chunk of the US East Coast as myself and two crew delivered about 400 miles south to the charming town of Beaufort, North Carolina. Not to be confused with Beaufort, South Carolina, the North Carolina version of Beaufort is a place that was never on my radar before, but will now end up holding a special place in my heart. A well-protected little water front with a nice and unique dock set-up, my time in Beaufort is simply a case of being in the right place at the right time. By waiting to depart Annapolis until the end of November, I basically arrived into Beaufort on December 1 when off-season rates start to become a thing. A 100% transient marina that is entering the off-season, they have plenty of space for me and had the ability to make me a great deal if I were to sign up for a monthly rate at off-season. Done deal, and now Sparrow scored a rarity in our experiences together; cheap dock space. As the campaign enters a new phase, I really just needed an affordable place to tinker with the boat and chip away at some boat jobs before our Florida re-fit and Caribbean training season. Mahalo for the warm welcome, Beaufort!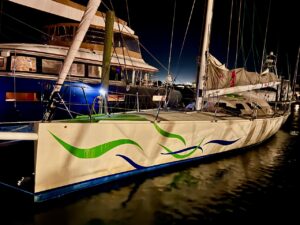 Sparrow's first night at the Beaufort Docks in Beaufort, NC. Great marina and staff, 10/10 would recommend.
Our delivery down from Annapolis went well. We slipped off the mooring ball at about midnight and motored for a few hours before reaching west and northwesterlies that let us slip out of the Chesapeake at a steady clip of 8-13 knots of boat speed. With breeze up and down and left and right, there was a lot of trimming and reefing and un-reefing to be done, which made for an exciting night. The first morning at sea began with an absolutely stunning sunrise which shot huge rays of light into the sky before the sun crested over the low-lying land mass of Virginia to our east. We hoisted the new-to-me fractional zero, but had too much of a downwind angle so we doused it in exchange for a spinnaker which was short lived in the narrow confines of the Chesapeake. Back into the jib after a lot of practice sail handling for little speed benefit, we began to get stronger breeze towards the mouth of the Chesapeake and were passing moored freighters at up to 14 knots. We came port to port with a freighter at the narrow entrance to the Bay and were catching surfs up to 14 knots. Forced to sail right over the ship's large and steep wake at about 12 knots, we landed with a rig-testing bang bang bang. Once into the ocean in the late afternoon, Sparrow began to pick up some stronger breeze and romped along in the 11-15 knot range while passing Virginia Beach under reefed main and big jib at sunset. That night saw some fantastic surfs up to 15 knots with very long sustained periods at about 13 knots, which makes for lovely and efficient sailing. My highlight was blasting along through the night at speed under a brilliant starry sky with many shooting starts, only to hear the familiar exhalation of a dolphin and then discover that I had picked up about 3-5 companions, who joined Sparrow for quite a ways on her journey towards Cape Hatteras.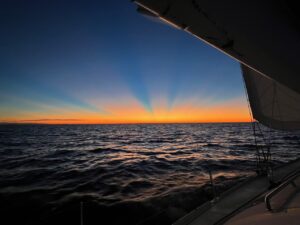 The stunning sunrise on our first morning in the Chesapeake. Pictures truly don't do this justice.
The following day we hoisted the fractional spinnaker and had a bit of a cluster the first time, but then re-groouped and put it back up properly. I know how I can modify my technique to avoid any more dramas. Once the kite was up and drawing, we were off to the races and enjoyed just an absolutely epic day of sailing under spinnaker; my first amazing ocean romp on Sparrow with a flying sail. We more or less topped out at wind speed, doing about 15 in 15 at times. Making the experience even more memorable, we were again joined by dolphins, but this time it was a ton of them and they stayed for hours! We had dolphins on the bow for what seemed like all afternoon. And while crew member Liz got some great shots, the best ones were only committed to memory. Blasting along in the teens with a kite up while dolphins launch themselves off your starboard beam, all the while passing the 'Graveyard of the Atlantic' in warm sunshine and following seas. Sparrow is a blessed boat.
That evening, we dropped the kite and then gybed in the middle of Raleigh Bay before the southerly front arrived much earlier than we had anticipated. Going to 1 reef and then straight into the second as well, we cruised along at reduced speed for a while to time our approach to Beaufort. I decided to add more speed, and then the breeze built, and we came romping wildly into Cape Lookout on a 2 reef and staysail reach, doing 11-14 knots the whole way. Once to Cape Lookout, we ended up dropping the main and running deep into Beaufort under just a staysail so that we could slow the boat down for an 8 am arrival on the docks. An arrival that was to be almost exactly on time until we found a bit of a 'hump' just offshore of the marina and spent an hour and fiftenn minutes waiting for the tide to fill… Sparrow's first real grounding under my stewardship was a very soft meeting with mud and sand, about 200 feet in front of the Beaufort Docks. A head sail, a rising tide and the motor pushed us free. An hour after we docked, the front rolled through and the boat got absolutely dumped on. I'm glad we arrived before that.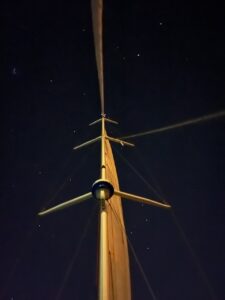 Photo that crewmember Liz Sabol took shortly after motoring out of Annapolis, before we reached the breeze.
I am grateful for my crew of Ed and Liz, two sailing friends i've known for many years. Ed in particular was my first sailing mentor and also doublehanded the Mount Gay 30 back from Hawaii with me in 2010 when we lost our keel. It was really great to have him on board and reconnect after what was a hectic trip a dozen years ago. He has also just recently purchased my 43′ cruising boat MatuaMai in Los Angeles.
Now that we are past the boat shows and past METS, but before the Caribbean, it's time to start workong on the boat. Before, I was just taking the boat that I inherited and getting it from boat show to boat show to find sponsors and money. Now that we are where we are in terms of sponsorship and funding, it's time to put the boat back together, make some changes, suit her to my sailing, and prepare Sparrow for solo training in the Caribbean. Being on the docks in Beaufort for a few weeks will allow me to get a lot done on the boat ahead of our mid-January haulout in West Palm Beach, Florida.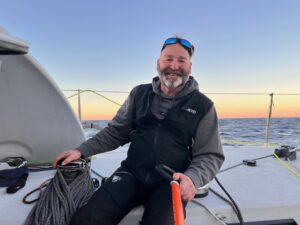 It's been great to reconnect with Ed McCoy and welcome him to the team. He brings a wealth of experience and technical and systems ability with him, and I look forward to having him help with boat prep and deliveries/ training in the future.