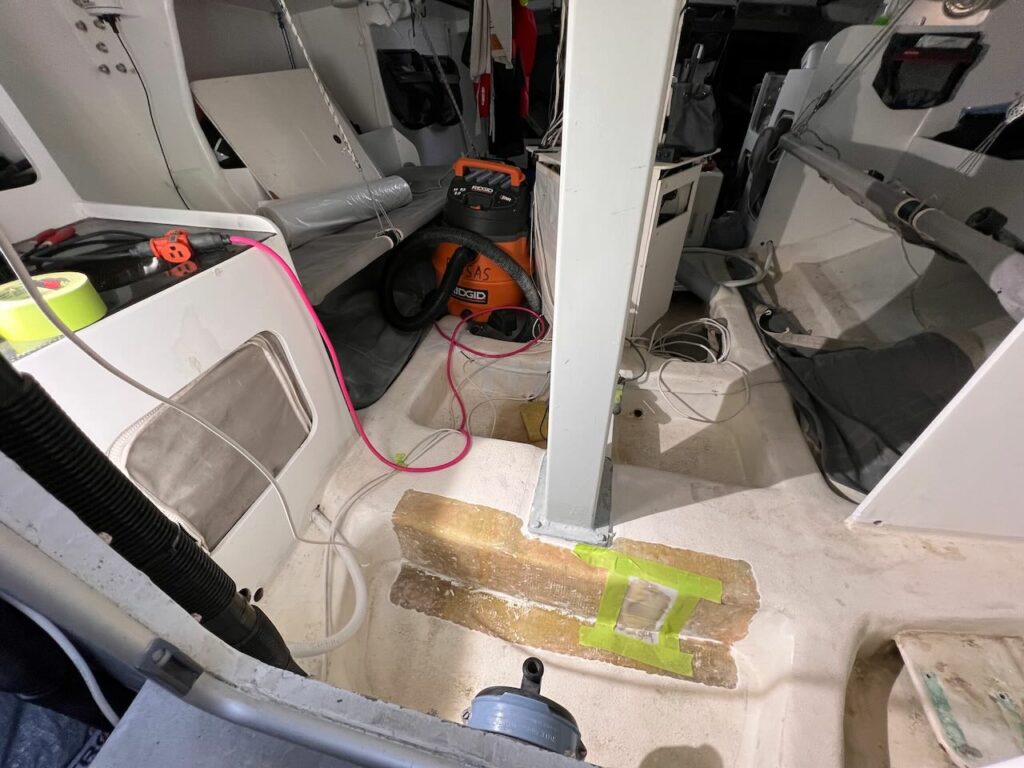 The area where the crask was found is inside of the green tape. The cracked fiberglass was ground out, and then the core was filled and reinforced before new glass was laid up on the entire area (brown) area that was prepared for glassing.
I wish I could report that everything was progressing smoothly with the Sparrow program right now, but while here in Maine, we are spending more time and money in prepping the boat than I had hoped, and we are also hitting a few speed bumps in the road that are consuming valuable time. We took on more work than initially planned and it's all worthwhile stuff, but the program has constantly revised our departure date to Spain, later and later. And after the first two days of sea trials over the weekend, I noticed that a small defecf in the laminate (on a stringer under the mast compression post) had opened up and become bigger. OIffshore race boats are made of fiberglass (or carbon) and they need repairs from time to time; this is common place and not an alarming situation. In light of this new development however, it necessitates that we undertake a structural project here at Maine Yacht Center that involves composite repair on a stringer and the replacement of the compression post while we are in there.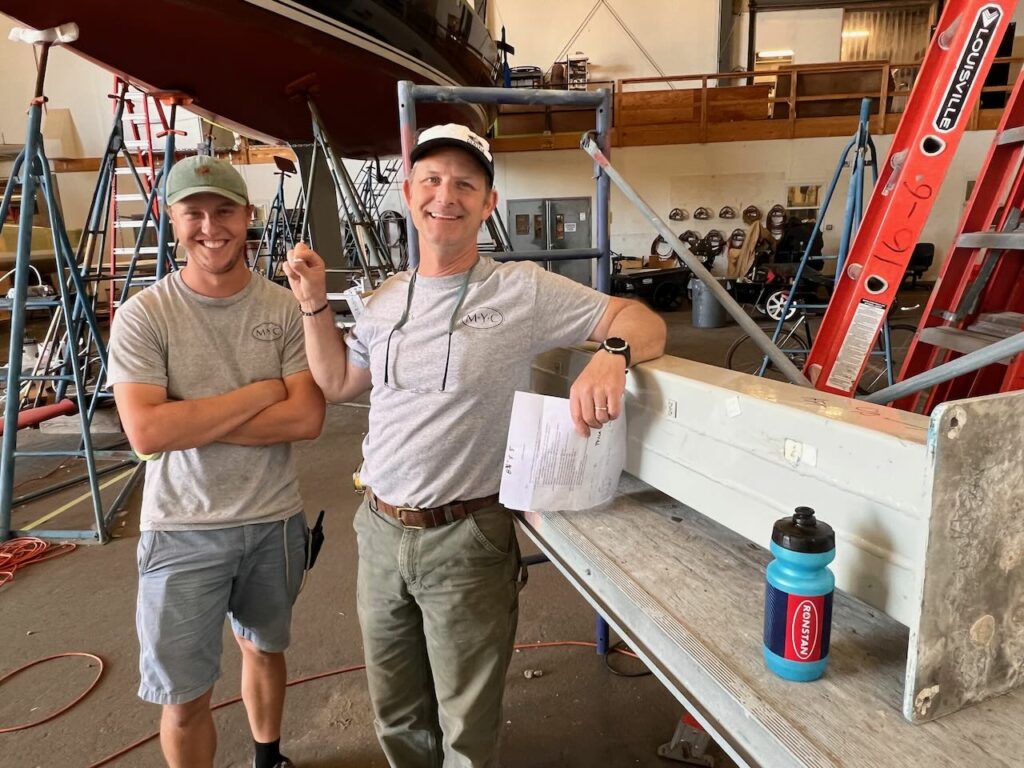 Will Rooks (R) and Seth Atwood (L)  have mostly been leading the repairs on Sparrow's stringer and compression post. Will has worked on IMOCAs in USA and France and is a renowned engineer and boat builder, while Seth is a talented young individual that is soaking up the knowledge around him and has done most of the composite work on Sparrow while she's been here in 2023.
The compression post and the stringer both had visible defects that were known to me, and this project arguably could have and should have been addressed earlier. But when you are running a grass roots, low-budget Open 50 campaign that is contantly strapped for cash, you make decisions that are based on the resources available at the time, and sometimes there are little things that go unaddressed until a later date. With a crossing of the North Atlantic Ocean just a few days away now, and then a trip to the Southern Seas in just two months, we can't kick this can down the road any longer and the best time and place to do this repair is right here and right now at Maine Yacht Center.
The good news is that the area that broke was arguably a bit superficial and the real structure that supports the mast and it's compression are fully intact and appear solid. The professional boat builders at Maine Yacht Center seem confident that if we reinforce the core behind the ground out crack and then lay up glass on the affected area and then spread it out to the other side of the mast, then the composite area shouold be quite strong. As for the compression post defects, those were known to me on day one of getting the boat, but have not moved in at least two years. I don't know what they looked like before Whitall went on his voyage around Cape Horn, but we have photographic evidence that those cracks have not grown since the boat arrived at Maine Yacht in October of 2021, and in the the 1 year and 5,000 miles since I have had the boat.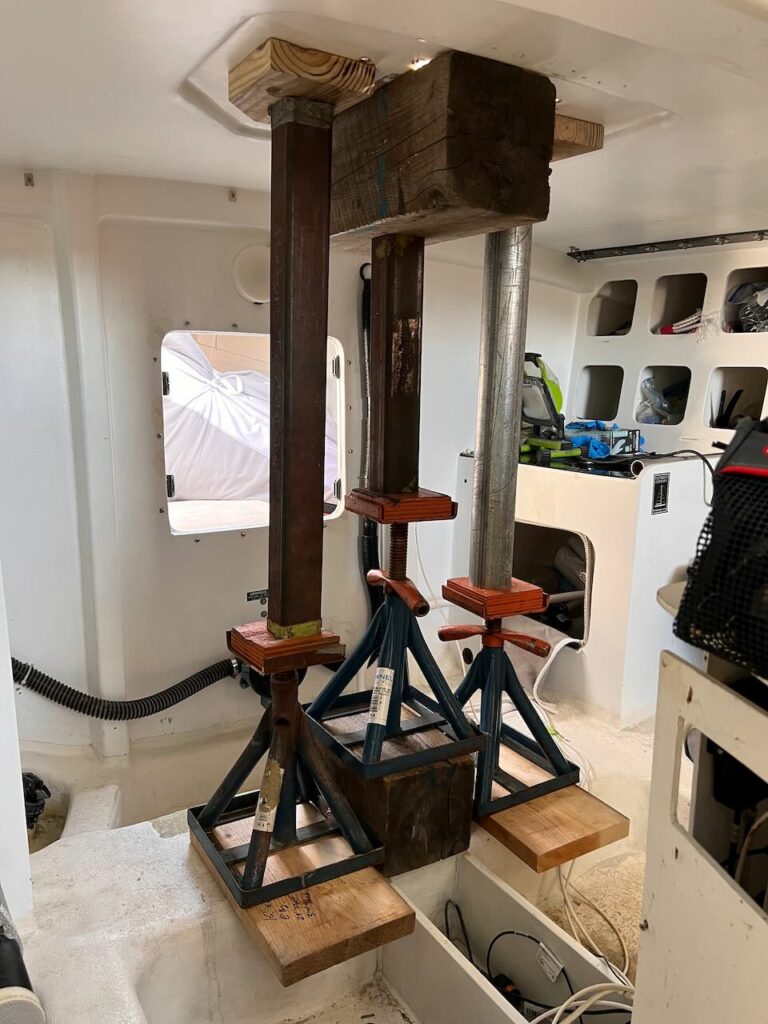 This repair would have been way easier if the mast were off the boat, but with the mast and rigging back on, it's fairly difficult to do this without damaging the structure of the boat, but with a few different jacks, Seth and Will managed to get the old post out and keep it solid while they do their repairs.
In addition to the structural issues, we have had a couple of electrical issues pop up that are not entirely unexpected. We need a few more days to sort these out, so this repair and subsequent weather delay are not the worst thing in the world. Our sea-trials proved that we weren't ready to immediately depart. While here in Maine, we made the choice to take on a pretty major project related to the charging system. Working with Ocean Planet Energy and American Power Systems (APS) Inc, we have installed a new Victron LIthium battery system with all of the fancy stuff and a high-output APS alternator with a Wakespeed regulator. This is the full Bruce Schwab/ tricked out/ Ocean Planet Energy set-up. It scares me a bit because it's expensive and complex (and not that simple), but according to all of the real marine elctrical installer professionals, this is the right way to do a lithium battery set-up for a boat like Sparrow in the Global Solo Challenge. So while the system is a bit complicated, and ended up being very expensive and more time-consuming than desired to install, it should in theory work very well for my race. I arguably have errored though, in going with this complex of a battery system. Perhaps I should have gone with a much more simple battery system, likely not Lithium. This has all been a learning cuve for me, and it's easy to second-guess one self, but most of my decisions that have made me uncomfortable were guided by well-known and respected professionals. So while I have anxiety over some aspects of the boat, this is all an experience of growing and moving up into a bigger, faster and inherently more complex machine to take on a bigger voyage than I have ever attempted. Life.
Other than the structural issues and the couple of electrical gremlins, our first two sea-trials were very positive. The mast looked straight and in column, the new NKE GyroPilot 3 seemed to be working well, though it cut out twice, which is of concern and potentially related to the battery system being sorted out. Our Elvstrøm Sails looked nice, and we tried out our new fractional spinnaker which just got brought up from Maryland. We also received the new mastheaed sail and have not had a chance to try it. Both days that we went out were a bit breezier than fully ideal, so we couldn't do the sail testing and rig tuning that we had planned on, and instead put a reef or two in the main and the appropriate head sail and then blasted around and knocked out miles just off of Portland.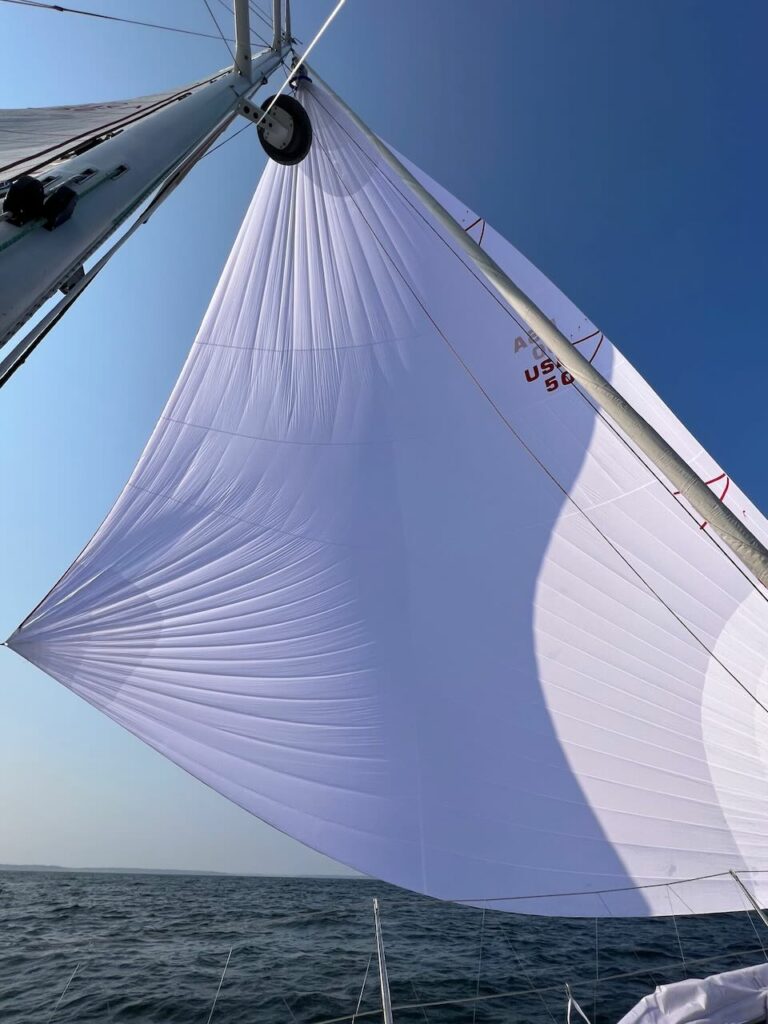 The new fractional spinnaker from Elvstrøm Sails being flown for the first time on our second day of sea trials. Looking forward to trying out the new masthead sail for the first time.
Once these few issues get sorted out, myself and my Trans-Atlantic delivery crew mate Ed McCoy are looking forward to getting out of here on the next good weather window, to get over to Spain. Perhaps around Thursday or Friday (September 1 ish). If this is the case, and everything goes smoothly, I hope to be at the starting line of the Global Solo Challenge in A Coruña, Spain by about September 16 ish, which would give me more than a month in Spain before the start or the race. Last but not least, in this blog entry, I want to thank all of the awesome people who have helped me out so much while here in Maine. In addition to the Maine Yacht Center, which has been incredibly kind and hospitable to me, I really want to thank Chris Passas, my shore crew chief, as well as Walt from Berkeley, Ryan from New Zealand, Ed from LA, John from Maryland, Aidan from Maryland and my parnter Marisa, as well as others who have been so kind and helpful while here in Portland, Maine. I truly couldn't do what i'm doing without some very kind people helping me oput. So thank you <3.
-Ronnie